Alone, but not lonely: Spokane widow embarked on solo camping adventure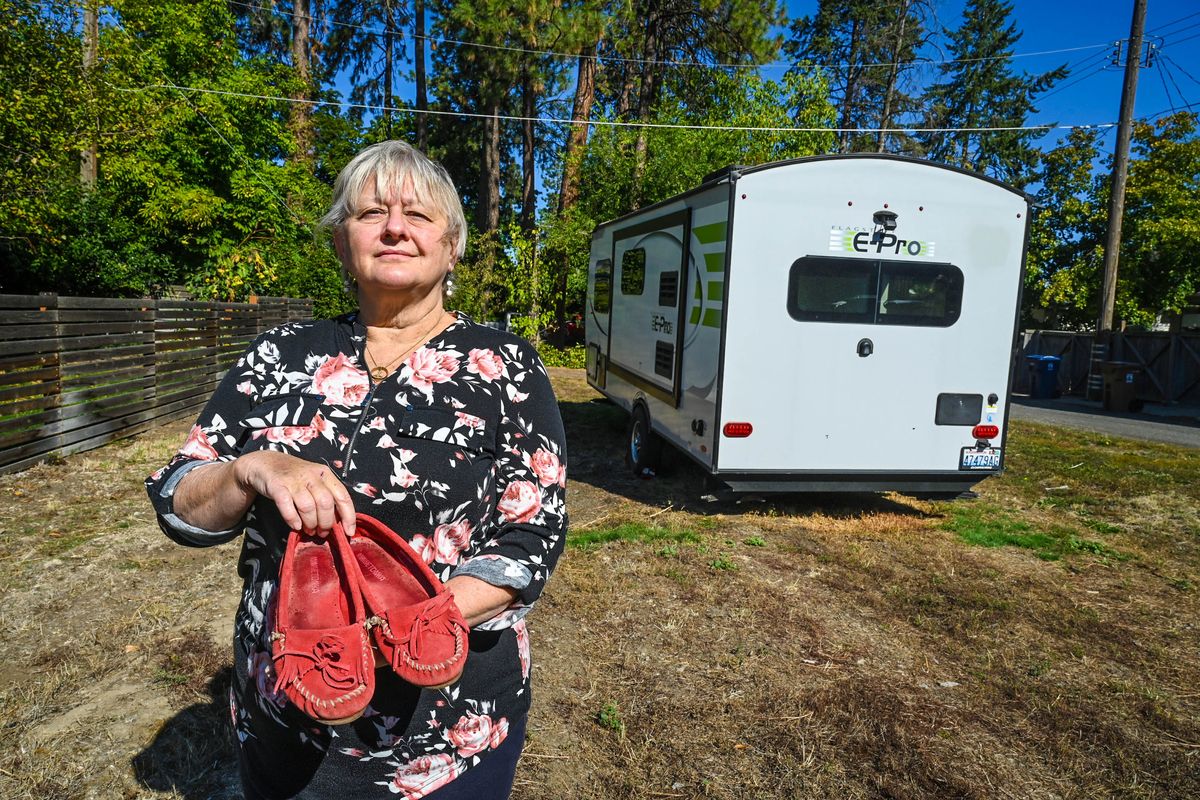 Camping was their thing.
For 28 years, Gina Cook and her husband, Terry Shanahan, enjoyed pitching a tent and camping in the great outdoors.
When they both retired, they upgraded to a 17-foot RK E-Pro travel trailer. On Oct. 13, 2021, they set off to see the Grand Canyon, the first of several trips on their bucket list.
"We got to Kanab, Utah, and lost the transmission in our truck," Cook, 61, said.
The couple ended up stuck in the small town for several weeks.
"No one would ever plan a six-week vacation in the middle of nowhere," she said.
Now, she treasures that time.
"Exactly one year later, on Oct. 13, my husband died," she said.
As Cook processed the death of her husband from lung cancer, she also mourned all the trips they'd planned to take.
Friends in Minnesota urged her to visit. She'd learned to tow the trailer in case anything happened to Shanahan. Because of his ill health, she'd done all hook-ups on their trip to the Grand Canyon.
So, on July 17, she and her Aussiedoodle puppy, Bear, set out for Minnesota, planning to stop at some national park sites on her bucket list before arriving at her destination on her birthday, July 21.
Her son insisted she download the Life360 app on her phone so he'd always know her location. She also stayed in touch with friends and family by posting daily updates online through the Nextdoor app.
Two hours outside of Spokane, in the middle of a construction zone on I-90, a trailer tire blew.
"My brother-in-law had suggested I get the tires replaced," Cook said. "I should have listened."
As a member of both AAA and Good Sam, she knew help was just a phone call away.
"Good Sam came out and replaced the tire and said I should stop in Missoula to get the other one replaced," she said.
But 45 minutes later, her engine light came on. She drove as slowly as she could until she reached a rest stop.
"The rest stop had a campground attached, so I decided to spend the night," she said.
She left the trailer there and drove her car into Missoula, where she got good news. A mechanic explained that hybrid batteries tend to overheat, especially while towing. A thorough diagnostic showed all was well with her car.
"I just decided I was going to get there (Minnesota) when I get there," Cook said. "I drove back to the campground, and Bear and I went swimming in the Clark Fork River."
Since she'd canceled upcoming campground reservations, she decided to stay an extra day.
"I organized the trailer and felt so much calmer," she said. "I got to ask myself what you want to do right now. I've never asked myself that before."
The next day, she discovered the Missoula Les Schwab didn't have a replacement tire for the trailer, but they put one on hold for her in Helena.
"So, I took a detour," she said. "What is an adventure without a detour? It's just a trip!"
By afternoon, she made it to Bridger Brewing campground in Three Forks, Montana, where she and Bear enjoyed a patio dinner at the restaurant. On the fourth day, Cook made it out of Montana and into South Dakota.
"According to Google Maps, it should have taken eight hours, but it took us 14," she said.
She stayed in Sturgis for two days – a sentimental stop because her husband had ridden his Harley to Sturgis for the 100th anniversary of Harley-Davidson. She also wanted to explore Wind Cave National Park, Mount Rushmore and the Crazy Horse Memorial. That's when she learned pets are not allowed at any of those attractions.
"Nothing on any of their websites said anything about no dogs," Cook said.
Someone snapped a photo of her and Bear at the Mt. Rushmore entrance, but after a frustrating day, she returned to her campsite.
When she stopped to give Bear a potty break, she noticed the pup was wobbling. Then he vomited. Their next detour was a visit to a pet emergency clinic in Rapid City, where a vet determined that somewhere on their trip, the dog had ingested part of a marijuana joint.
"He was stoned out of his mind!" Cook said.
The vet told her to let him sleep it off, and sure enough, the next day, he was fine. They spent the night in Sioux Falls and arrived at her destination in Clear Lake, Minnesota, on July 23, just a couple of days later than she'd planned.
While enjoying a three-week visit with her friends, she got a message from a friend in Spokane, who wanted to fly out and join her for the trip home.
On the return trip, she booked Bear at a doggy day care so she and her friend could enjoy the sites she'd missed along the way.
As someone who'd never lived alone or traveled any distance by herself, she's thankful for her solo outing and what it taught her.
"Being alone on the road is so much better than being alone at home. Your thought processes change," she said. "I learned I don't hate being alone. I thought I was lonely, but I really was just confused about how to live alone,"
She's planning another solo camping trip.
"I discovered I can find real joy in life and continue living fully," she said.
Contact Cindy Hval at dchval@juno.com.
---