Ryan Koppenhaver makes go-ahead catch; Ridgeline beats Lewis and Clark 27-22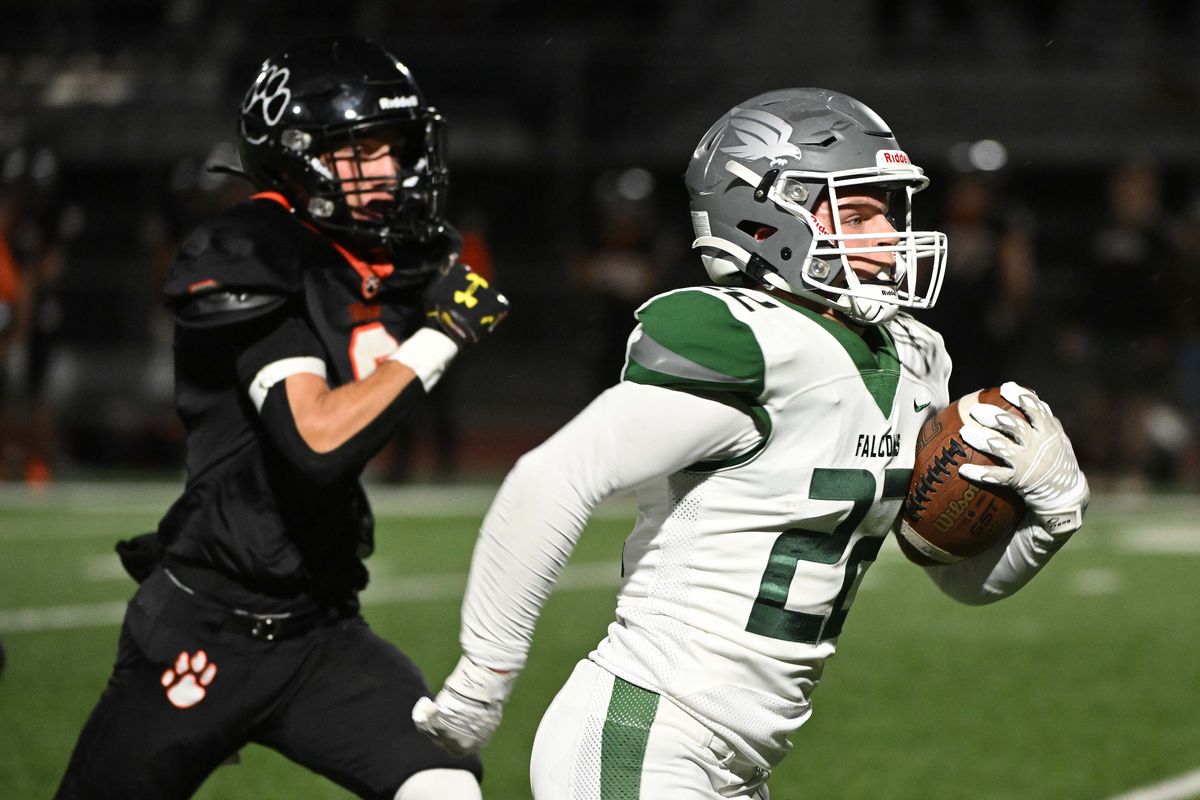 It took double overtime last week for Ridgeline to edge Mead 20-17 and grab an early advantage in the Greater Spokane League 3A race. Its matchup Thursday was with 4A Lewis and Clark, which got off to a good start in Week 1 before suffering back-to-back lopsided losses.
It didn't take overtime on Thursday, but it wasn't settled until late.
Ryan Koppenhaver caught a 24-yard go-ahead touchdown pass with just more than 6 minutes left in the fourth quarter, Brayden Allen grabbed an interception a couple of minutes later, and the host Falcons held off the Tigers 27-22.
"We had a lot of big plays to get that go-ahead, that last touchdown," Ridgeline coach Dave Myers said. "And Ryan made a wonderful catch. We've been missing him. He's been out for a couple of weeks with a sprained ankle for it. So, for him to come back in the game and make a big play to seal it for us is huge."
"I was surprised to go in," Koppenhaver said. "Really glad I caught it – stressful in the air. I kinda bobbled it, but really glad I came down with it."
Ridgeline (3-1, 3-1) led 21-6 at halftime, then watched LC (1-3, 1-3) take the lead midway through the fourth quarter before finding one last scoring drive to come away with its third league victory. 
"We've got to learn to put games away earlier," Myers said. "And that's probably a thing that we've got to continue to re-emphasize. It's part of maturing. We've had two weeks in a row where we had an opportunity to put it away earlier and let teams back into it." 
On Allen's third catch, the Ridgeline junior set the GSL record for career receptions, passing the total of 143 by Mt. Spokane's Jesse Clark set in 2002. Allen finished with 11 catches for 115 yards.
Allen set the single-season record of 72 catches and single-game of 17 as a freshman in Ridgeline's first season.
"It feels great," Allen said, suggesting with another year and a half he could reach the receiving yardage record as well. 
"A lot of people say it's just swing passes or short routes, but I'm here to prove that we can go deep, and I can go deep too."
"Really proud of Braden," Myers said. "This is three years of work for him. And he put in a lot of time and effort in the offseason to get better and it's really shown so far in these first four games."
Up 15 at intermission, Ridgeline dropped back to punt after its first drive of the third quarter. The snap went over the head of punter Koppenhaver, who recovered it at the 13. On fourth-and-1 at the 4, LC was called for delay of game and settled for Tyler Reed's 25-yard field goal.
Lewis and Clark forced a punt and took it back at its 44. Six plays later, Jack Paridon hit Mason Hubble in the corner for a 14-yard touchdown pass. The extra point made it 21-16.
On LC's next drive, Paridon (9 of 23, 138 yards) connected with Ian Schwartz down the middle for 42 yards to the 15. Reed hit his second field goal of the quarter, a 28-yarder, to make it 21-19 with 33 seconds left in the frame.
LC attempted an onside kick and Ridgeline took it at the Tigers 47, but Michael Mann intercepted a screen and took it to the Falcons 14. Reed's 25-yard field goal, his third of the half, helped LC take its first lead of the game at 22-21 with 9:20 left in the game.
But Landon Garner (28 of 42, 356 yards) hit three long completions to get to the LC 24, then found Koppenhaver down the right sideline who made a twisting, bobbling catch for the go-ahead score. The Falcons committed two false start penalties on the 2-point conversion, and Garner's attempt from the 13 was picked off.
Ridgeline led 27-22 with 6:20 to go.
"Man, that was an insane catch," Allen said. "(Koppenhaver) has been out two weeks with an ankle and he's pushing through right now, still hurts him, and he goes out there and he makes a clutch TD. He definitely saved our team right there."
The Tigers went three-and-out and the Falcons took over at the LC 45. The handoff was fumbled, and Mann fell on it at the Ridgeline 47. But Allen picked off Paridon at the Falcons 30 to take the ball back, and Ridgeline ran out the clock to escape with the win.
"We can definitely play a lot better," Allen said. "LC definitely earned our respect, but we should have come out stronger than that.
"I feel like we all know that we can capitalize on the little mistakes other teams make instead of letting them have chances back into the game. The record definitely feels great, but we know we can play better as a team."
Both teams produced long but scoreless drives at the start of the first quarter. After LC missed a field goal, the Falcons moved out to near midfield. On third-and-1 from the 50, Kole LeGrant burst through the middle of the line and went the distance for an early 7-0 lead.
LC's Caleb Kostecka gathered the kickoff at the 1, made the first tackler miss and raced 99 yards for a touchdown. The extra point was blocked, and Ridgeline retained a one-point lead.
On its next possession, Ridgeline went for it on fourth down at the LC 32, but a screen pass went incomplete. On the Tigers' next play, Paridon fumbled the snap and the Falcons' Deakon Sell recovered at the 26 for the Falcons.
Presented with fourth-and-14 on the next drive, Garner went deep to Amend on a post pattern for a 30-yard touchdown pass and 14-6 lead with just under 5 minutes left in the half.
The Falcons' defense pushed LC backward on the next possession and forced a punt from the Tigers' end zone.
The Falcons got the ball back with 2:09 to go at the LC 49. Garner passed to Lincoln Duggan for 33 yards to the 16. With 14 seconds left, Garner found Amend again on a back-shoulder catch at the goal line. It went as a 25-yard TD pass and 21-6 lead at the half.
LeGrant carried 11 times for 79 yards. Amend finished with five catches for 83 yards. 
---