In WSU-OSU matchup, there's a game to be won amidst all the noise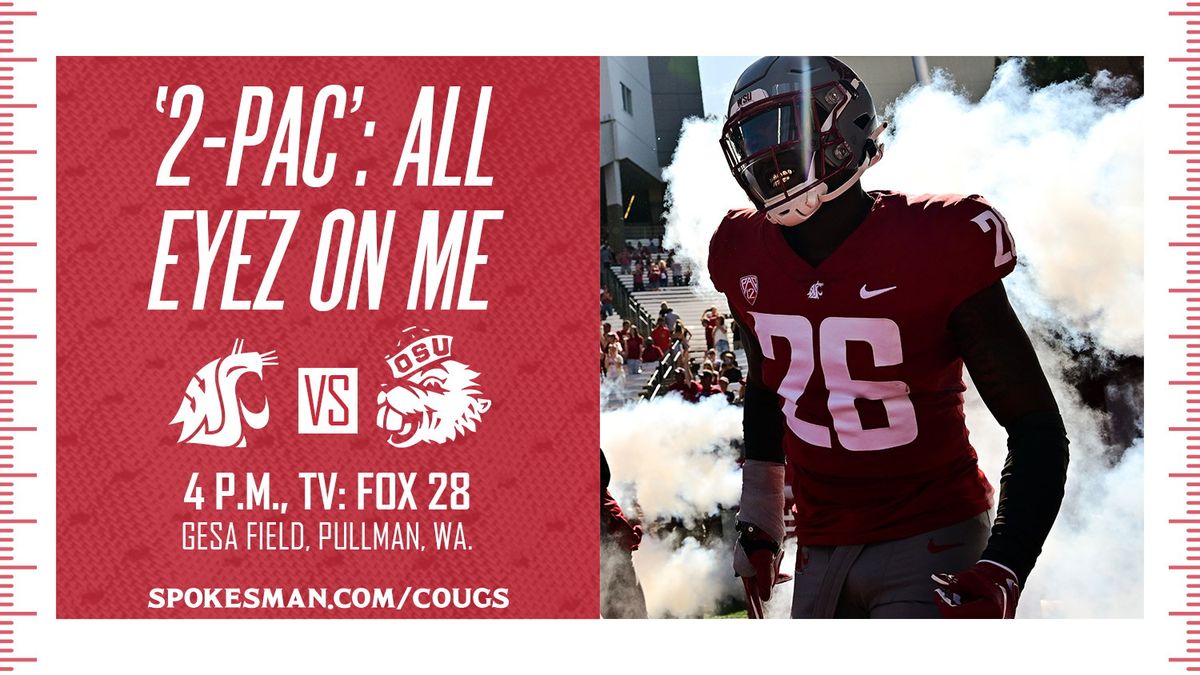 PULLMAN – On Saturday, somewhere around 3:42 p.m., Washington State will become Oregon State's best friend. Eighteen minutes before kickoff of the prime-time game, the Cougars' band will play the Beavers' fight song, giving fans of both schools about 90 seconds to remember they're in this fight together.
This is what happens when conference realignment leaves behind two schools. The Pac-12 is the Pac-2 now, and during the past seven weeks WSU and OSU have done nothing but shake each other's hand.
A couple of weeks ago, when the Cougars finished off an upset of Wisconsin, the Beavers announced the score over the PA system during their game. On Thursday, when the presidents and athletic directors of each school hosted a Zoom call to chat about their place in this mess, they did so behind backdrops with both their logos pictured. As they look for their next conference homes, the Cougars and Beavers have never been so aligned.
"The partnership has been super strong," Oregon State Athletic Director Scott Barnes said during that Zoom call, "but it's on pause come kickoff."
That's what makes Saturday's game so fascinating. It features the last two Pac-12 members, the teams that have so much more to prove than that they can win the game. WSU and OSU both want to show they can attract TV viewership. They want to demonstrate they belong in the system that has left them out to dry.
To do all that, though, No. 21 Washington State and No. 14 Oregon State have to illustrate they can win these games.
On that front, the Cougars face several challenges – contain the Beavers' rushing attack, which averages 220 yards per game, good for 15th nationally; limit the playmaking of quarterback DJ Uiagalelei, who has displayed promising highs and some concerning lows; and find holes in the Beavers' defense.
There is a game to be won within all the noise, and the Cougars like where they stand for this one.
"What an opportunity for us," WSU coach Jake Dickert said. "By most metrics, they have a top-five offensive line in the country. I was mistaken about Wisconsin's backs – these two backs are phenomenal. Just physical and they run their scheme and they're patient. Very multiple. No. 7 is a threat, and now they have a quarterback that's seen everything and extremely confident to make all the throws.
"Put that all together with, in the last 15 games, they've had the No. 1 defense in the conference. So the challenge is there. The challenge is real."
This game might start up front. Washington State's defensive line – edges Brennan Jackson and Ron Stone Jr. and interior linemen David Gusta and Nusi Malani – will have to get creative to overcome Oregon State's offensive line of left tackle Joshua Gray, left guard Heneli Bloomfield, center Jake Levengood, right guard Tanner Miller, right tackle Taliese Fuaga.
Can Jackson and Stone win those matchups and get pressure on Uiagalelei? The answer could well swing this one. The Beavers' offensive line hasn't allowed a sack this season. Four members are returning starters. Miller has blossomed into one of the best guards in the country, opening up running lanes for the Beavers' tailbacks.
That's where Washington State's linebackers come in. Ahead of the Cougars' win over the Badgers, Dickert said between running backs Braelon Allen and Chez Mellusi, no team in the country features two better tailbacks. That's what he meant when he said he was "mistaken" by Wisconsin's backs – the Beavers' backs might be even better.
That's why WSU linebackers Kyle Thornton and Devin Richardson will have to play even better than they did against Wisconsin. They starred in that matchup with 14 combined tackles, bottling up Allen and Mellusi for just 70 yards combined, but their task will be a tad different when OSU comes to town.
Martinez has graded out as the 12th-best running back in the nation this season, per PFF. His six rushes of more than 15 yards ranks second nationally. If the Cougars' defensive linemen can't create havoc in the backfield, they'll have to trust their linebackers to clean things up behind them.
"There's a physicality they bring to both sides of the football on the line of scrimmage," Dickert said. "We gotta match it. Our strain, our finish, our pad level when we're tired will lead to success. And that is old-school toughness. We have it, too."
Washington State will need to, especially on offense. Quarterback Cameron Ward has produced nearly 1,000 passing yards while avoiding an interception, but his team's running game has lagged behind. Lead back Nakia Watson hasn't produced more than 41 yards on the ground – in fairness , he left that Northern Colorado game early with an injury – but he managed just 15 and 26 yards against Colorado State and Wisconsin, respectively.
Fantastic as their Air Raid offense has been , whether the Cougars can find any rhythm on the ground may figure prominently . The Beavers rank 20th nationally in run defense, per PFF, and in their win over San Diego State last week, they yielded just 70 yards .
Even so, WSU may mitigate those issues by airing it out, same as it has during these first three wins of the season.
Washington State likes to pass. Oregon State likes to run. For one evening, they will put their differences on display for the country to see.
"Every Saturday, we know from outside sources that we're not a Power Five team," Ward said, "so we've got something to go prove day in and day out."
---