Jacob Thorpe: WSU's Cameron Ward should be mentioned among Pac-12, country's best quarterbacks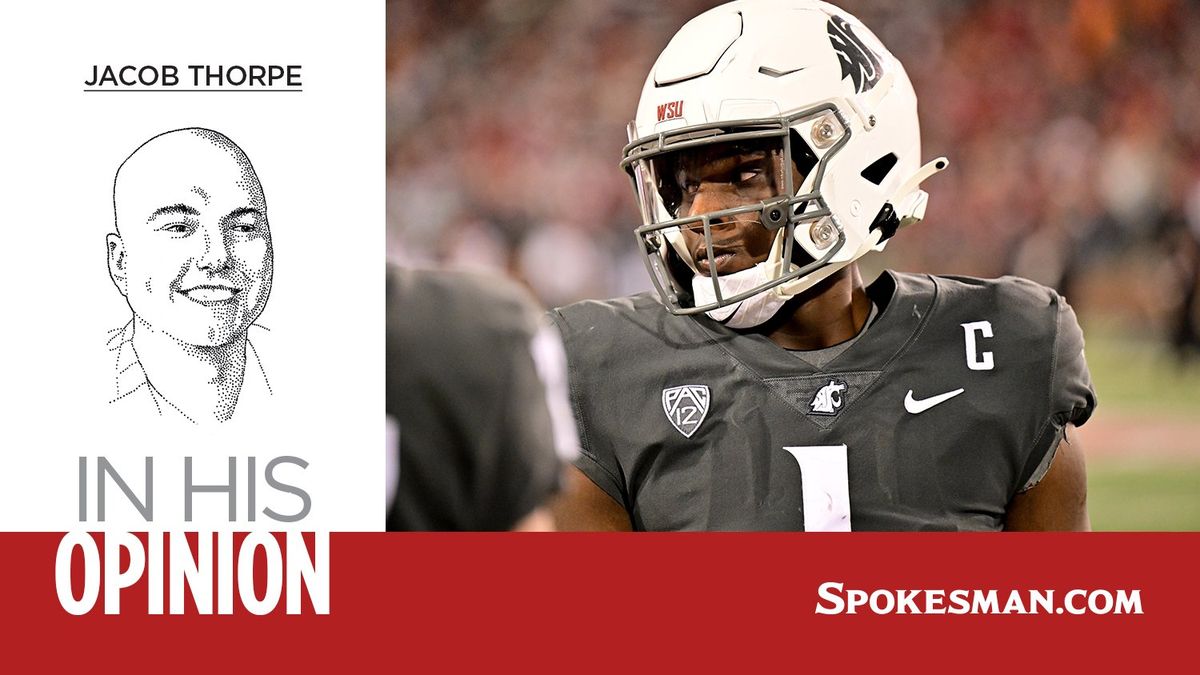 The Pac-12 continued to assert itself as college football's best conference for passers, as reigning Heisman Trophy winner Caleb Williams completed an astounding 28 of 34 pass attempts for 400-something yards and four touchdowns, with nary a turnover in sight.
Oh, wait. Sorry. I was looking at the wrong box score. That was actually WSU quarterback Cam Ward who had the sterling stat line on Saturday. My mistake.
But how about Washington quarterback Michael Penix Jr.? The Huskies QB proved once again that he is the driving force of maybe the country's most unstoppable offense, torching his second top-25 team in three weeks, spreading the ball to two separate star receivers who each gained more than 150 yards in the process.
Shoot! It turns out that was actually WSU's Ward, too.
You see where this is going.
The Pac-12 has multiple signal callers at the top of every pundit's Heisman prediction lists, and rightfully so. Penix Jr., Williams, and Oregon's Bo Nix have established track records of excellence and are putting up superlative offensive numbers for winning teams in 2023.
Just like Ward.
I am not trying to dismiss or diminish any of the hype around the other QBs, especially Penix Jr. and Williams. It is deserved. Williams has already won a Heisman Trophy. His credentials are established.
And every week it seems more and more clear that Penix Jr. is, bar none, the best quarterback in UW history. (Of course, that is easier to do when your school has never had a Ryan Leaf or Drew Bledsoe behind center, but I digress.)
But there is no argument based in facts or results to not include Ward in a comparison of the Pac-12's finest quarterbacks, in what is one of the best collection of signal callers out west in a long, long time.
Like his peers, Ward has made jaw dropping individual plays and put up gaudy numbers. Ward ranks third in the conference in passing yards per game and is the only QB in the top three who has not yet thrown an interception.
If you're looking at stats, Ward deserves to be in every discussion about the conference's best QB, and if you factor in strength of opponent he is alone at the top in 2023. All his peers have on him is hype.
I'm doing a favor to the nation's pundits by pointing this out. They would be wise to get on board with this idea now.
WSU's success has put them well into the rankings – as of this column's printing the Associated Press has the Cougars No. 16 nationally. And unlike the conference's other top quarterbacks, Ward's team has already met many of its tougher challenges.
After a great start to the season, the Cougars have a bye week coming up to rest, recuperate and take stock of their remaining games. WSU is 4-0, and with the exception of a trip to No. 8 Oregon should be favored in every game until the Apple Cup. Maybe UCLA will be ranked when the Cougars visit in two weeks, but if not then the Ducks and Huskies are likely to be the only ranked teams WSU faces the rest of the regular season.
At this point, it seems unlikely that WSU will drop out of the rankings any time soon. More likely, the Cougars will keep winning and continue climbing. If that happens, it will only be more and more conspicuous the star QB leading one of the country's best offenses on one of its winningest teams is not getting the love.
WSU head coach Jake Dickert tried after the game to point out that which is obvious to anyone paying attention to his ranked, undefeated team.
"I think Cam deserves to be mentioned with the best quarterbacks in the country, period," Dickert said. "I think he continues to show that, and I think nationally we continue to undervalue him and what he's doing."
Unfortunately, the national media only has the attention span for one quote from Dickert per game, if that, and seems set on spending this news cycle focused on the Cougar coach's response to some silly comments made before the game by ESPN employee Lee Corso.
So here is a freebie for the nation's college football experts. Put Cam Ward on your highlight shows. Talk about him on your podcasts. Watch the fast, fun, and effective offense that Extremely Young Offensive Coordinator © Ben Arbuckle is putting together and the creative quarterback who is making it hum.
You will be a lot smarter for it.
---