Student mental health, test scores are key factors in Medical Lake School Board race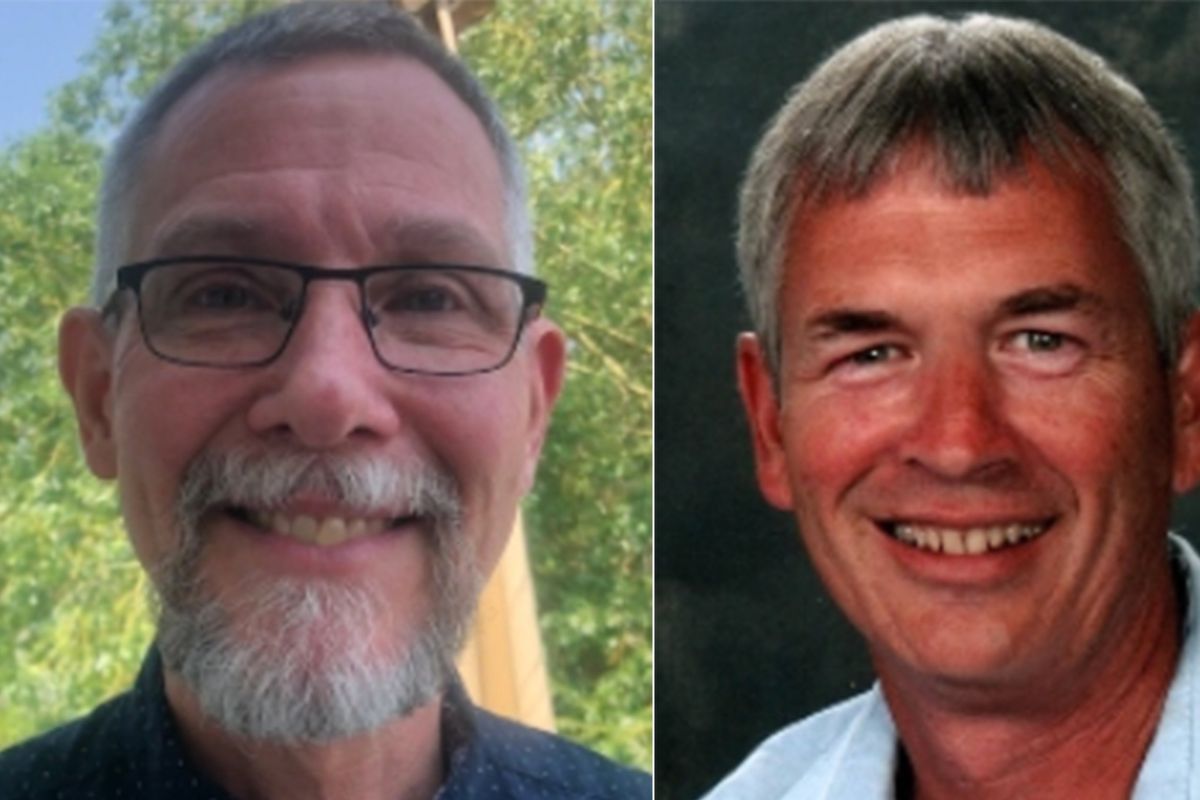 In the aftermath of two wildfires that leveled hundreds of homes and displaced dozens of families, those elected to the Medical Lake School Board in November will face challenges surrounding student enrollment and support.
Ron Cooper is the most tenured person on the Medical Lake School Board, with nearly 20 years of experience. He is proud of work he's done to help the district weather a pandemic, a recession and now the Gray wildfire – that success shows in a recently reported district graduation rate of 92%, he said.
The incumbent's bid for re-election to serve his fifth consecutive term on the board is being challenged by political newcomer Mark Hudson, who says the district has lacked transparency with parents and that the board should work toward improving education standards and reinstate a "rule of law" in the schools.
Wildfire recovery
Enrollment among Medical Lake students dropped by about 70 pupils since the Gray fire burned through much of the district in August, according to data provided by the local teachers union.
Hudson, a pastor at Medical Lake Community Church, said recovery from the devastating fires was not school officials' top priority.
"I'm not sure the fires are really our big issue," Hudson said by phone. "Part of our biggest issue is the loss of learning our children had during COVID. We're playing a catch-up game right now."
If re-elected, Cooper said he plans to try to get more money allocated to fund mental health services in the school district. To attain funding, Cooper said he and other school board members regularly attend conferences in Washington, D.C., and elsewhere to talk to lobbyists along with state and national legislators.
"In my opinion, we need more counselors," Cooper said. "We need to keep lobbying for more of those kinds of assets in the schools. The kids are going through this fire and all these traumatic events."
Test scores
In his candidate statement, Hudson cited statewide standardized testing data gathered by the Washington Office of Superintendent of Public Instruction reportedly collected in spring 2022.
In 2023, that data changed: In Washington, about 51% of students met English language arts standards, 39% met math standards and 43% met science standards, as reported by the state OSPI.
2023 data also showed Medical Lake students excelled beyond that statewide average in all three standardized test categories. The same study showed about 55% of students in Medical Lake schools met English language arts standards, 52% met math standards and 61% met science standards.
Cooper believed Medical Lake did well to keep standardized test scores up through the pandemic when compared with other districts in the area, adding schools across the country and world got hit hard by learning loss in the wake of COVID.
Pandemic positions
Cooper and Hudson differed in their belief that the state government-mandated shutdown was the right move for the district during the pandemic.
Cooper said it could be dangerous for students to go to school, contract the virus and bring it home to infect an elderly or vulnerable relative. Cooper also added the district's failure to follow any government-issued mandates could lead to their losing out on state funding.
Hudson said he did not support the school district's shutdown during the onset of the COVID-19 pandemic in 2020.
"The data came out from the science that proved that it was very harmful to the students in their learning capability," Hudson said. "The data came out and the science has shown that was not helpful."
Hudson pointed to Sweden as an example of a country he said had "low death rates" in spite of not completely shutting down.
In contrast to Hudson's claim, a peer-reviewed study in the National Library of Medicine reported the pandemic caused a "dramatic loss of life in Sweden" and that "more extensive and earlier measures should have been taken, especially during the first wave."
Transparency
A major topic discussed in this year's election has been transparency – particularly a policy spearheaded by a former superintendent to close the public comment section of school board meetings. Both Hudson and Cooper said they disagree with this since-defunct policy that temporarily blocked public comments.
In his candidate statement, Hudson criticized the former policy.
"I believe parents are the primary stakeholders in their child's education," Hudson wrote. "But often, parents not only feel out of the loop, they are out of the loop."
Cooper said Superintendent Kimberly Headrick and the board have agreed to reinstate regular public comment windows at the end of every school board meeting, and this practice is already underway.
To increase transparency, Cooper said he has long been advocating to invite student representatives to regularly work with the school board. He said this plan is finally picking up some steam.
"Every time I go to a conference or something like that, one of the breakout sessions that I always go to is a student representative breakout session," Cooper said. "I think it's really important to get some representatives there that are in the schools. They know what's going on."
Hudson and Cooper are both longtime residents of Medical Lake, and both have relatives enrolled in the local school district.
Cooper carries the endorsement of the local teacher's union, the Medical Lake Education Association; and the statewide teacher's union, Washington Education Association, which donated $1,200 to the incumbent's campaign.
Ryan Grant, president of the Medical Lake Education Association, said the drop in student enrollment will "make things tight" with the district's budget.
"Ron's a level-headed guy with a ton of experience on the board," Grant said, and that's why we're supporting him."
For the general election, Oct. 30 is the deadline to register online and via mail. Nov. 7 is the deadline to register at the polls.
Election day is Nov. 7, and ballots are due in drop boxes at 8 p.m. that day.
---