Idaho tallies 363 rushing yards to pull away and beat Eastern Washington 44-36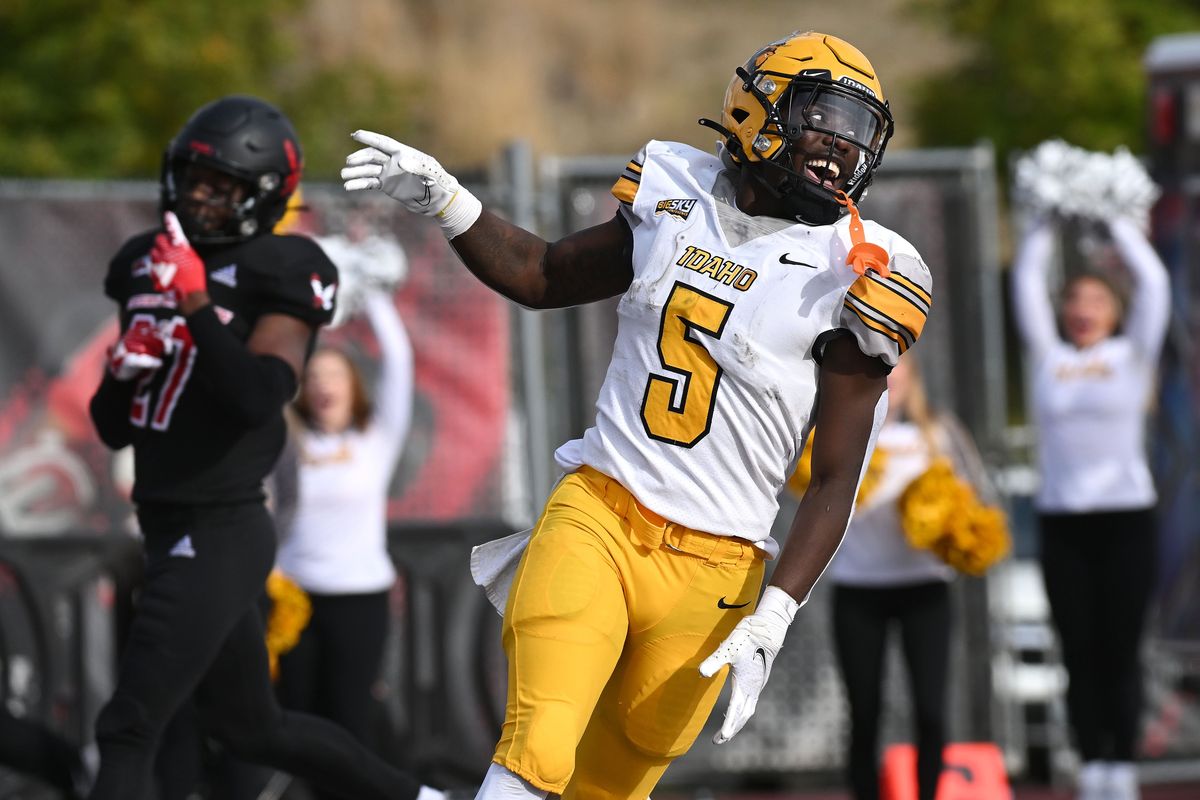 At times this season, the Idaho Vandals have needed to rely on quarterback Gevani McCoy and their celebrated receiver corps to carry them to victory.
Saturday's game in Cheney was not one of those times.
Sophomore Anthony Woods scored five touchdowns – one shy of Idaho's school record – and had 183 of Idaho's 363 rushing yards as the fourth-ranked Vandals came back to beat the 19th-ranked Eagles 44-36, winning on the red turf of Roos Field for the first time in four tries.
"We executed on offense and did our job," Woods said.
Did they ever.
The Vandals (4-1, 2-0 Big Sky) scored on all but three of their drives, the exceptions being a first-half three-and-out punt followed by an interception, and then their last one – a 14-play, 63-yard drive that ran out the rest of the clock after the Eagles had pulled back within eight points.
They didn't need much from McCoy, who threw for 128 yards, completing 8 of 18 attempts, just five of which came after halftime. And they needed little from preseason Big Sky MVP Hayden Hatten, who had just three catches for 41 yards after scoring four touchdowns against the Eagles last season in Moscow.
"We've got a lot of playmakers," Idaho head coach Jason Eck said. "We have a lot of weapons, which makes us tough to defend."
Woods was the workhorse, carrying 24 times. He would have had more than 200 yards had he not been credited for a 28-yard loss that came on a botched snap in the fourth quarter.
UI senior Nick Romano, a fifth-string running back last year who climbed into the backup role this season, set career highs for carries (18) and yards (129), giving the Vandals a pair of 100-yard rushers in the same game against a Division I team for the first time since 2004.
"In this era, you don't see a lot of guys who would do what he did," Eck said of Romano. "(Last year he) didn't get a lot of carries but played hard on special teams. Didn't pout. Didn't transfer, and now he has a 100-yard game in a big conference game on the road."
Idaho's plan – run the ball – followed a familiar script for Eastern Washington opponents. In the Eagles' past 14 games dating to last season, seven of their opponents have accumulated more than 300 yards rushing.
"They ran it. We knew they were going to run it," EWU coach Aaron Best said. "We couldn't stop it."
The Eagles, who started redshirt junior Jared Taylor at quarterback in place of an injured Kekoa Visperas, also did plenty of running. They gained a season-high 226 yards on the ground and had more rushing yards than passing yards (126) for just the third time in the program's past 15 games.
For a while, it was enough. Eastern took a 14-7 lead on a 34-yard catch and run from Taylor early in the second quarter, from which point the Eagles either had the lead or were tied until midway through the third quarter.
But following Taylor's 4-yard rushing score at the end of a 15-play, 75-yard drive to open the second half, the Eagles made a pair of mistakes.
The first came immediately, when UI's Jermaine Jackson broke free for an 84-yard kickoff return. That set up a 4-yard score by Woods – his third of the game – to tie it at 28 with 7:49 left in the third quarter.
"Jackson's kickoff return probably swung heavy momentum in their favor," Best said.
The next mistake came early in the fourth quarter, after a Ricardo Chavez field goal and another Woods touchdown had given the Vandals a 37-28 lead. (Chavez missed the extra point, the first of his Idaho career.) Facing a third-and-8, UI center Elijah Sanchez snapped the ball when McCoy wasn't looking for it, and the ball bounded all the way back to the Idaho 6-yard line.
But the Eagles were called for an unsportsmanlike conduct penalty after the play was dead, which gave the Vandals a first down. Idaho scored four plays later when Woods ran 60 yards through the middle of Eastern's defense for his fifth touchdown.
The victory, Idaho's first in Cheney since 1994, was the Vandals' third on the road this season. They play at Cal Poly next week before closing out the year with three of their final five at their Kibbie Dome.
Eastern finished September 2-3 overall and 1-1 in the Big Sky heading into its bye. On Oct. 14, it will play at Idaho State before returning home against Weber State on Oct. 21.
"Our whole team thinks we should have beat that team," Taylor said. "We should have won today and we didn't. (We'll) learn from it and we'll get better."
---