Topics
Delbert Belton
Delbert Belton
Summary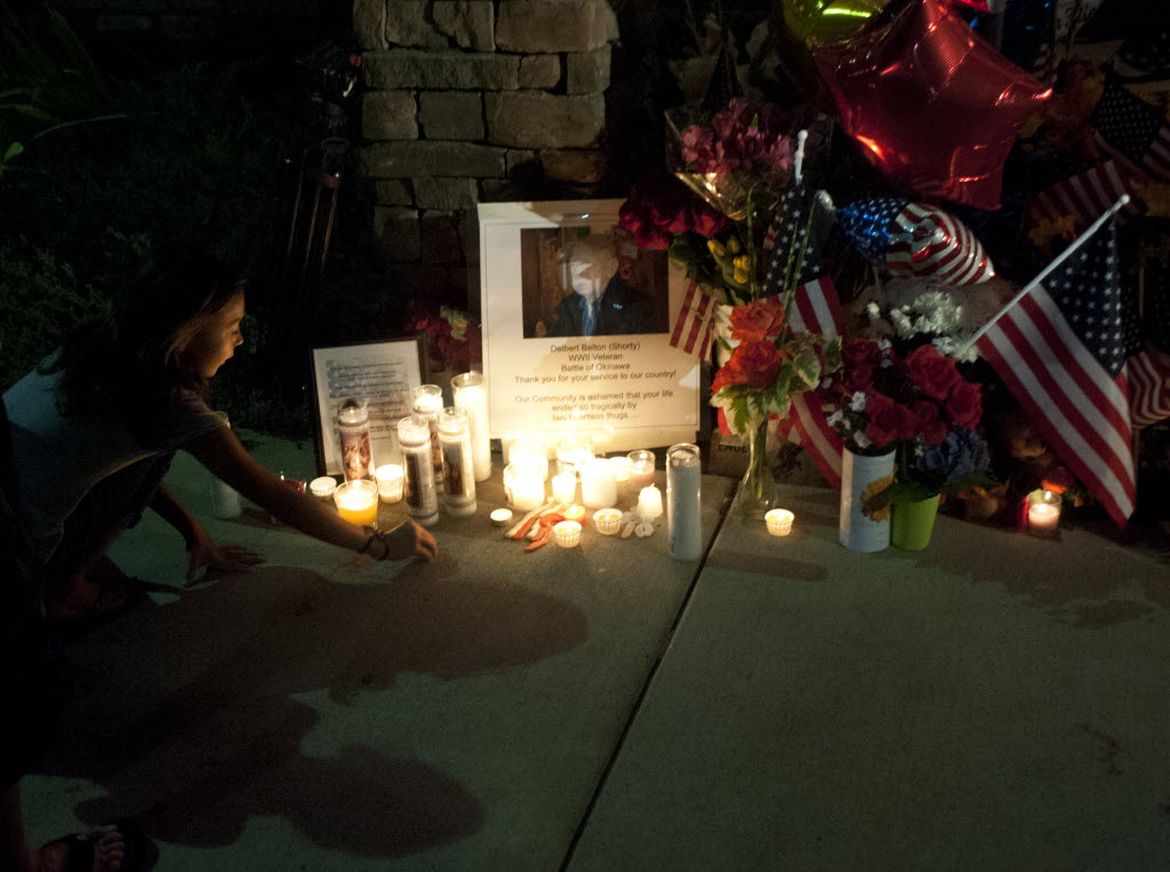 World War II veteran Delbert "Shorty" Belton was beaten and left for dead Aug. 21 in his car at the Eagles Lodge parking lot in North Spokane. Belton, 88, died the following day at Sacred Heart Medical Center.
Two 16-year-old boys, Demetruis Glenn and Kenan Adams-Kinard, were arrested separately in connection with the fatal beating, which Spokane police described as a robbery-turned-homicide. Glenn turned himself in to police shortly after surveillance photos of the suspects were distributed by investigators. Adams-Kinard was found by police Aug. 26 hiding in an apartment, and claimed in a letter to his mother that Belton was a drug dealer and had shorted them in a crack cocaine deal — an assertion that friends and family described as outrageous and police dismissed as unfounded. Prosecutors charged both teen-agers as adults with first-degree murder and first-degree robbery.
A survivor of the bloody Battle of Okinawa, Belton returned to Spokane and spent decades working at Kaiser Aluminum before retiring.
Key people
Kenan Adams-Kinard

Kenan Adams-Kinard was arrested Aug. 26 after police found him hiding in a Spokane apartment with friends. In a letter to his mom that police believe was written by Adams-Kinard, the victim of the beating death was described as a drug dealer who had shorted them in a crack cocaine deal — claims that Belton's family and friends call outrageous and police say are unfounded.

Delbert Belton

Delbert Belton was found unconscious and bleeding profusely Aug. 21 in his car outside the Eagles Lodge in North Spokane. He died the following day at Sacred Heart Medical Center.

Demetruis Glenn

Demetruis Glenn turned himself in to police after investigators began circulating surveillance photos of two suspects in the Delbert Belton beating death.
Key places
Eagles Lodge

Delbert Belton was in his car in the west parking lot of the Spokane Eagle's Ice Arena, 6321 N. Addison, waiting for a friend before heading into the nearby Eagle's Lodge. A friend, Natalie Flom, found Belton unconscious and bleeding profusely in his car following a severe beating.
Latest updates in this topic