Filip Petrusev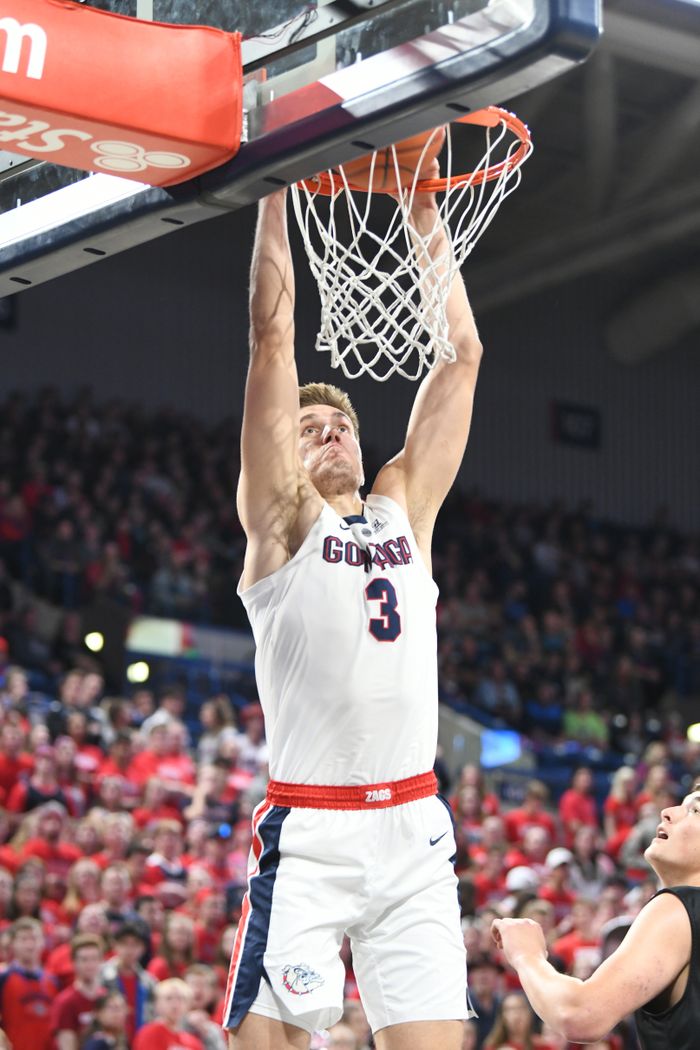 Jersey: 3 Position: C
Age: 22 Height: 6-11 Weight: 225
Hometown: Belgrade, Belgrade, Serbia
Birthdate: April 15, 2000
Bio: Name pronounced PHIL-lip PAH-true-SHEV. Serbian native played senior season at Montverde (Fla.) Academy. Starter on loaded squad that went 35-0 and won the GEICO High School Nationals championship. Scored 15 points in title game. Made five 3-pointers and totaled 21 points in semifinals victory. Standout performer in FIBA U19 World Cup last summer. Averaged 19.3 points and 10.1 rebounds while shooting tournament-best 66.2% from the field as Serbia placed seventh. Guided Serbia to second straight title at FIBA U18 European Championships two years ago. Posted 29 points, 8 rebounds and 3 assists in title game. Finished third in tournament in scoring (22.3) and rebounding (8.7). Contributed 3.1 assists, 1.3 blocks and 1.1 steals in tourney games. Made 61 percent of field-goal attempts and nearly 80 percent at free-throw line.
So.

Scouting report:
Skilled forward should step into a starting role. Knack for scoring in the lane with the potential to stretch the floor. Good frame and athleticism. Entered name in NBA Draft before withdrawing to return for sophomore year. Team's second-leading returning scorer. Scored 19 points against Michigan State in scrimmage Oct. 19.
Fr.

Scouting report:
WCC All-Freshman team selection. Averaged 6.5 points and 11.4 minutes in 32 games. Made 5 of 7 shots and scored 11 points in victory over top-ranked Duke in Maui. Scored season-high 15 points against Saint Mary's. Reached double figures in first three games.
Career Stats
Per Game
Team
G
GS
MPG
PPG
RPG
APG
SPG
BPG
TOPG
PFPG
FG%
3P%
FT%
18-19
Gonz
31
0
11.5
6.5
2.7
0.3
0.2
0.5
0.6
1.5
.551
.300
.853
Career
31
0
11.5
6.5
2.7
0.3
0.2
0.5
0.6
1.5
.551
.300
.853
Totals
Team
G
GS
Min
FGM
FGA
3PM
3PA
FTM
FTA
OR
REB
A
Stl
Blk
TO
PF
Pts
18-19
Gonz
31
0
357
65
118
9
30
64
75
21
84
10
5
15
18
47
203
Career
31
0
357
65
118
9
30
64
75
21
84
10
5
15
18
47
203
Game Logs
| | | | | | | | | | | | | | | | | | |
| --- | --- | --- | --- | --- | --- | --- | --- | --- | --- | --- | --- | --- | --- | --- | --- | --- | --- |
| Date | Opp | Result | Min | FGM | FGA | 3PM | 3PA | FTM | FTA | OR | REB | A | Stl | Blk | TO | PF | Pts |
| 11/6 | IdaSt | W 120-79 | 16 | 4 | 6 | 0 | 1 | 4 | 4 | 0 | 5 | 0 | 1 | 1 | 0 | 1 | 12 |
| 11/10 | TxSo | W 104-67 | 20 | 4 | 9 | 2 | 3 | 4 | 4 | 1 | 5 | 0 | 0 | 1 | 1 | 2 | 14 |
| 11/15 | TexA&M | W 94-71 | 21 | 2 | 5 | 0 | 2 | 6 | 6 | 3 | 6 | 0 | 0 | 2 | 2 | 2 | 10 |
| 11/19 | @Ill | W 84-78 | 15 | 1 | 4 | 0 | 1 | 3 | 5 | 2 | 6 | 0 | 0 | 0 | 0 | 2 | 5 |
| 11/20 | Ari | W 91-74 | 9 | 1 | 2 | 0 | 0 | 2 | 4 | 1 | 3 | 0 | 1 | 0 | 1 | 1 | 4 |
| 11/21 | Duke | W 89-87 | 12 | 5 | 7 | 1 | 2 | 0 | 0 | 3 | 4 | 1 | 0 | 1 | 0 | 0 | 11 |
| 11/26 | NDakSt | W 102-60 | 18 | 4 | 7 | 2 | 4 | 1 | 2 | 0 | 3 | 1 | 0 | 0 | 1 | 3 | 11 |
| 12/1 | @Cre | W 103-92 | 8 | 0 | 1 | 0 | 1 | 2 | 2 | 0 | 1 | 0 | 0 | 1 | 0 | 0 | 2 |
| 12/5 | Wash | W 81-79 | 14 | 4 | 5 | 0 | 0 | 1 | 1 | 1 | 3 | 0 | 0 | 1 | 0 | 3 | 9 |
| 12/9 | @Tenn | L 73-76 | 16 | 2 | 4 | 0 | 1 | 1 | 2 | 1 | 4 | 0 | 0 | 0 | 2 | 2 | 5 |
| 12/15 | @UNC | L 90-103 | 11 | 3 | 5 | 1 | 3 | 0 | 0 | 0 | 0 | 0 | 0 | 0 | 0 | 0 | 7 |
| 12/18 | Tx-Ar | W 89-55 | 17 | 3 | 6 | 0 | 2 | 8 | 9 | 0 | 3 | 2 | 0 | 3 | 1 | 1 | 14 |
| 12/21 | Denver | W 101-40 | 16 | 4 | 4 | 0 | 0 | 2 | 2 | 0 | 4 | 1 | 0 | 1 | 1 | 4 | 10 |
| 12/28 | NortAL | W 96-51 | 19 | 2 | 4 | 0 | 0 | 5 | 6 | 4 | 5 | 0 | 1 | 1 | 2 | 3 | 9 |
| 12/31 | CS-Bk | W 89-54 | 11 | 1 | 3 | 0 | 1 | 2 | 4 | 0 | 2 | 0 | 0 | 1 | 1 | 4 | 4 |
| 1/5 | SantaC | W 91-48 | 13 | 4 | 6 | 0 | 1 | 0 | 0 | 0 | 4 | 0 | 0 | 0 | 2 | 1 | 8 |
| 1/10 | Pac | W 67-36 | 8 | 1 | 3 | 0 | 0 | 4 | 4 | 1 | 5 | 0 | 0 | 1 | 0 | 1 | 6 |
| 1/17 | LyMnt | W 73-55 | 6 | 0 | 1 | 0 | 0 | 0 | 0 | 0 | 1 | 0 | 0 | 0 | 0 | 0 | 0 |
| 1/19 | @Por | W 89-66 | 1 | 1 | 1 | 0 | 0 | 0 | 0 | 0 | 0 | 0 | 0 | 0 | 0 | 1 | 2 |
| 1/24 | @SantaC | W 98-39 | 14 | 3 | 5 | 0 | 0 | 6 | 6 | 1 | 4 | 0 | 0 | 0 | 0 | 4 | 12 |
| 1/31 | @BYU | W 93-63 | 3 | 0 | 0 | 0 | 0 | 0 | 0 | 0 | 1 | 0 | 0 | 1 | 0 | 0 | 0 |
| 2/2 | SD | W 85-69 | 1 | 0 | 1 | 0 | 1 | 0 | 0 | 0 | 0 | 0 | 0 | 0 | 0 | 0 | 0 |
| 2/7 | SanFr | W 92-62 | 6 | 1 | 3 | 1 | 2 | 2 | 2 | 0 | 2 | 0 | 1 | 0 | 0 | 1 | 5 |
| 2/9 | StMry | W 94-46 | 21 | 5 | 7 | 1 | 2 | 4 | 4 | 1 | 5 | 1 | 0 | 0 | 1 | 2 | 15 |
| 2/14 | @LyMnt | W 73-60 | 7 | 2 | 2 | 1 | 1 | 1 | 1 | 0 | 2 | 0 | 0 | 0 | 0 | 1 | 6 |
| 2/16 | @SD | W 79-67 | 9 | 0 | 3 | 0 | 0 | 0 | 0 | 0 | 0 | 0 | 0 | 0 | 0 | 1 | 0 |
| 2/21 | Pepper | W 92-64 | 13 | 3 | 4 | 0 | 1 | 2 | 3 | 0 | 2 | 0 | 1 | 0 | 1 | 2 | 8 |
| 2/23 | BYU | W 102-68 | 7 | 0 | 0 | 0 | 0 | 2 | 2 | 0 | 1 | 2 | 0 | 0 | 0 | 0 | 2 |
| 2/28 | @Pac | W 86-66 | 10 | 0 | 3 | 0 | 1 | 0 | 0 | 0 | 1 | 1 | 0 | 0 | 2 | 0 | 0 |
| 3/2 | @StMry | W 69-55 | 5 | 1 | 1 | 0 | 0 | 0 | 0 | 0 | 0 | 0 | 0 | 0 | 0 | 4 | 2 |
| 3/11 | Pepper | W 100-74 | 10 | 4 | 6 | 0 | 0 | 2 | 2 | 2 | 2 | 1 | 0 | 0 | 0 | 1 | 10 |