Wed., Nov. 11, 2009, 9:28 a.m.
Missing no more…
When the remains of 13 veterans were interred at the Idaho State Veterans Cemetery last Friday, with full military honors and a formal flag-folding ceremony, it was just the latest sign that the Missing In America Project is accomplishing its goal in Idaho - to locate and recover the remains of veterans and their spouses that have been lost or forgotten, and provide them with a proper military burial at the veterans cemetery. The project is a national one, but it started here, when the Idaho veterans cemetery interred the cremated remains of 21 veterans in November of 2006. To date, the remains of 70 Idaho veterans and five spouses have been interred through the project at the Idaho veterans cemetery near Boise.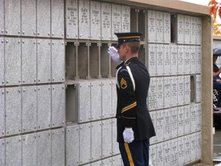 Those honored last week included 12 veterans whose cremated remains sat at a Kellogg funeral home unclaimed for years. Two of those veterans served in World War I, including one who died in 1973 at age 84, and whose remains waited unclaimed for 36 years. Others served in World War II, Vietnam, and other conflicts. At last Friday's ceremony, shown in these photos by Patti Murphy, solemn and dampened by rain, members of each branch of the armed forces participated in the flag-folding ceremony and presentation; an Army bugler played taps; and Marines offered a rifle salute.
---
---