Fri., May 1, 2009, 9:02 a.m.
Hagadone Wants Marina Expansion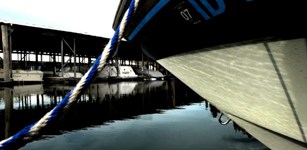 With bigger boats mooring on Lake Coeur d'Alene, Hagadone Hospitality wants to retrofit a 1940s marina to provide a sheltered space for luxury yachts and other pleasure craft. A deeper harbor and two dozen 60-foot-long boat slips are part of the proposed makeover at the Marina Yacht Club on Blackwell Island, near the lake's confluence with the Spokane River. The new marina design calls for a total of 420 boat slips of varying lengths, plus space for 128 personal watercraft. Large yachts are taking the place of vacation cabins on Lake Coeur d'Alene, said John Barlow, Hagadone Hospitality's secretary. People moor them at marinas and live in them/Becky Kramer, SR. More here.
Question: Do you have any problems with Duane Hagadone's proposed expansion of his Blackwell Island marina?
---
---