It appears that future state senator from Coeur d'Alene has climbed aboard the anti-Common Core bandwagon. In her newsletter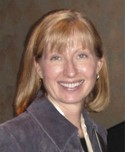 Wednesday, Mary Souza encourages readers to attend a presentation by Mila Wood of Boise-based Idahoans for Local Education from 3 to 5 p.m. Saturday at the Coeur d'Alene Library. Future Senator Mary begins her newsletter: "Common Core is a new program of education being implemented all over our country. It supposedly started a number of years ago as an idea from a group of Governors so their states could compare educational outcomes. Somewhere in the process, though, it was hijacked by special interests, and now it is a different beast. To be kind, I'll just say it's a good idea gone bad." You can read Mary's newsletter here.
Question: Where do you stand on Common Core?