Former Idaho Sen. Larry Craig, the newly named finance chairman for the Idaho Republican Party, has filed a notice of appeal to the U.S.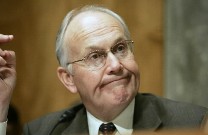 Court of Appeals D.C. Circuit in Washington, D.C. of a September federal judge's order that he pay $242,535 to the U.S. Treasury to make up for improper use of campaign funds to cover legal expenses incurred after his 2007 arrest in an airport bathroom sex sting. U.S. District Judge Amy Berman Jackson on Sept. 30 ordered Craig to pay the "amount he was unjustly enriched" by tapping the campaign funds, $197,535, plus a court-imposed $45,000 penalty, "which the Court finds necessary and appropriate to punish defendants' misconduct and to deter future misconduct by others"/Betsy Russell, Eye on Boise. More here. (AP file photo)
Question: Doesn't Craig ever know when to give up?