Without the split-second decision of an 11-year-old girl, a day by the pool last month would have led to tragedy for the Love family.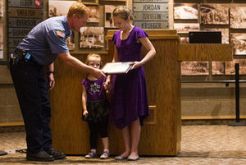 Josephine Love, of Coeur d'Alene, told The Press that she took her family to enjoy a day at a friend's pool. Minutes after a family member took Love's 3-year-old daughter, Airabella, to the restroom, the toddler was able to get back in the pool unnoticed without her life jacket. Love said she and the other mothers were right by the pool keeping an eye on the kids, when all of a sudden she heard someone screaming Airabella's name. "I looked over and she looked dead in the water. She was a gray color and was unconscious," Love said. "It was horrifying and surreal. It almost felt like time froze"/Keith Cousins, Coeur d'Alene Press. More here. (Coeur d'Alene Press photo by Tess Freeman: Coeur d'Alene firefighter Erik Loney presents Sequoia Love, 11, accompanied by her sister Airabella Love, 3, with an Award of Exemplary Action)
Question: Have you ever saved someone's life?