Also from the Public Comments period of City Clerk Renata McLeod's draft minutes of the City Council meeting Tuesday: "Roy Wargi,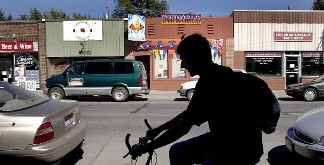 2022 E. Coeur d'Alene Ave., said that he thinks that bicycles should be licensed the same as other vehicles in the city. Mr. Tymesen said that the city has not had bicycle registration for probably the last 15 years, but he would suggest moving the request to the Pedestrian and Bicycle Advisory Committee for further study. Council member Adams said that he is on that committee and bicycle licensing has actually already been studied and they have come to the conclusion that the licensing of bicycles restricts the use of bicycles when their objective is to promote more use of bicycles in the city. Mr. Wargi commented that he has a bicycle that is equipped with turn signals and a brake light, but a lot of bicycles are running around going all directions into late in the evening and it is not right. Without a license, there is no way to identify who is riding the bicycles." (SR file photo, of bicyclist in Midtown)
Question: I can't believe I'm saying this, but Councilman Adams is right. This time. Licensing would discourage bike use. However, I empathize with resident Wargi. I would guess that few bicyclists know the rules of the road, including which side to ride on. Thoughts?