Mon., July 19, 2010, 5:25 p.m.
Wild Card/Monday — 7.19.10
Dunno how many Spokane Shock fans there are out there. But the team will be dining at 6:30 p.m.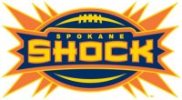 at Azteca in Riverstone tonight. And fans are welcome to join the team there. Whoever put up the post about the PAR-tee on Facebook misspelled Coeur d'Alene, rearranging the "e" and "u." Which launched a small thread re: the spelling of Coeur d'Alene and whether it should always be written in caps. Which prompted a fan named Robert to get things back on track with this comment: "Shoot this sounds like a dang good reason to go to Coeur D Alene to me and join with the Idaho fans...I am Idho born and bred so is my wife so it will be like going home." Do you follow the Shock? You can answer that question or use this Wild Card to launch your own thread ...
---
---