Thu., July 22, 2010, 8:10 a.m.
Berry Picker Walks Across England
What the 45-year-old Coeur d'Alene man (Phil Corless) had gotten into was a 84-mile walk along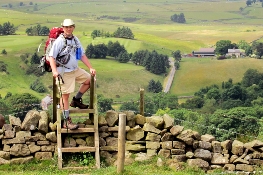 the famous Hadrian's Wall that runs the entire width of Northern England. In July, he joined a group of 35 walkers from England, Scotland, Ireland, Holland and the United States as they made their way from east to west. They followed the remains of the wall and small lookouts built by the Romans in 122 AD to keep the Scottish out of England. Corless paid a price. He suffered swollen legs, blisters, weariness and a shortage of sleep. While he admits there were times he felt he was faltering, that he couldn't go on, that he wanted to hop on a bus instead, he pushed on/Bill Buley, Coeur d'Alene Press. More here. (Phil Corless photo)
Question: What is the greatest adventure that you've ever been on?
---
---