Wed., Nov. 24, 2010, 12:24 p.m.
Joe Vandal, UM Mascot In Finals
Monte, the University of Montana's ever-gregarious mascot, is one of eight finalists in the national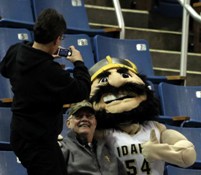 Capitol One Mascot of the Year contest. The university's cuddly bear is currently in third place behind Old Dominion's "Big Blue" and the University of Texas El Paso's "Pay Dirt Pete." Monte, of course, is a two-time defending champion, having claimed the title in 2002 and 2004. United Mascots on Tuesday announced the eight finalists who will advance to the playoffs. Rounding out the final eight playoff mascots is Ohio State's "Brutus," "Puddles the Duck" from the University of Oregon, defending champion "Bearcat" of the University of Cincinnati, "Joe Vandal" of the University of Idaho, and Western Kentucky's "Big Red"/Chelsi Moy, Missoulian. More here. (AP file photo of Joe Vandal at basketball game this spring)

Question: Which mascot do you prefer -- University of Montana's Monte or Joe Vandal?
---
---