Mon., Oct. 18, 2010, 9:01 a.m.
OTV Review: Skippers Seafood
I'm just going to listen to the experts and pretend I ate a healthfully guilt-free lunch. Dietary experts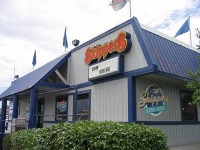 say that regular consumption of the Omega-3 fatty acids found in many types of seafood can help do a number of wonderful things for your body's well-being, from lowering cholesterol and blood pressure to acting as an anti-inflammatory and possibly helping to prevent cancer. They say Omega-3 can lift you out of a depression, slow down the onset of Alzheimers and can even make you a better samba dancer. But as I sat at the Coeur d'Alene Skippers restaurant getting busy with a colossal basket greasy fried fish and fries, dressing-soaked dish of coleslaw, and bottomless bowl of rich clam chowder, I didn't exactly feel like I was going to become Doctor's Pet anytime soon/OrangeTV, Get Out! North Idaho. More here.
Question: Who serves the best seafood in the Inland Northwest?
---
---