Thu., Jan. 13, 2011, 9:12 a.m.
How Giffords Survived Bullet To Brain
It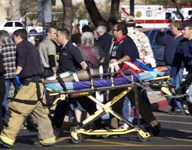 looks like Rep. Gabrielle Giffords is one of the lucky ones. Few people who take a bullet to the brain - just 10 percent - survive such a devastating wound. Yet doctors have reported the critically injured woman has been making steady progress each day since she was wounded last weekend. Then Wednesday night - with her closest friends from Congress holding her hand - Giffords opened her eyes for the first time. "It was raw courage. It was raw strength. It was so beautiful and so moving," said Sen. Kirsten Gillibrand, D-N.Y. "She wanted us to know that she was with us a hundred percent and understood everything we were saying"/Alicia Chang, AP science writer. More here. (AP file photo: Emergency personnel and intern Daniel Hernandez move Congresswoman Giffords after she was shot in the head outside a shopping center in Tucson, Ariz.)
Question: Do you have a friend or loved one who miraculously survived an injury or illness?
---
---