Tue., Jan. 25, 2011, 8:24 a.m.
Marianne: Australia Dreamin'
Why did that Oprah have to take us to Australia this past week anyway? I did not watch every episode of her trip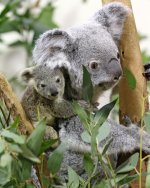 Down Under, which included hundreds of her ultimate fans, but I did watch enough to wish I could magically shut my eyes and open them a second later, leaning on some remote Australian ranch fence, admiring horses. So far, I have to do that in my dreams. Annie's been to Australia. She and one of my former students and good friends, Kelsi, visited there at the same time on separate trips. They hooked up with each other on the steps of the Sydney Opera House, and they've been good friends ever since. I've written about Australians for the Appaloosa Journal, and that story, published more than a decade ago, about a mounted Search and Rescue team in South Australia's wine country, will bring me even closer to the culture I've longed to experience most of my adult life/Marianne Love, Slight Detour. More here. (AP file photo of koala bears, for illustrative purposes)
Question: Have you been to Australia or New Zealand? Would you recommend the trip to others?
---
---