Wed., July 27, 2011, 8:34 a.m.
Hasselbeck Leaving For Tennessee
Matt Hasselbeck is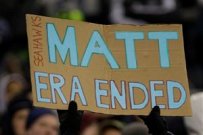 leaving the NFC West after 10 years of starting with the Seattle Seahawks, as he has agreed to a multi-year deal with the Tennesee Titans. He will be their starter this year and probably in 2012, but is expected to show rookie Jake Locker the ropes. With the announcement, the Arizona Cardinals lost one of their options at quarterback. With Hasselbeck leaving, teams in the NFC West should breathe a little easier. He has shown he can win in that division for a long time, and his experience and play were key in a playoff victory last season against the New Orleans Saints./Jeff Root, SB Nation. More here.
Question: Are you a long-suffering fan of the Seattle Seahawks?
---
---