Mon., Nov. 7, 2011, 9:51 a.m.
BNSF Begins CdA RR Track Removal
A Chicago company this week began tearing out about three miles of a BNSF Railway Co. line that has run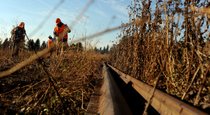 through Coeur d'Alene for 100 years. On Wednesday, heavy equipment operators from C&C Track Works pulled up the steel rails and crews followed with long crowbars wrenching up the spikes. When they're done, said worker Jose Lopez, the rail line will be left a gravel trail. "It's a lot of work," said Lopez, who said crews can remove about a mile of rail in a day. Recently, they've removed rail lines in Minnesota and South Dakota. BNSF received federal approval about a year ago to abandon six miles of rail line between downtown Coeur d'Alene and Post Falls/Alison Boggs, SR. More here. (SR photo: Kathy Plonka)
Question: Once the tracks are gone, the city is mulling the idea of extending a bike trail along the Spokane River through the Mill River subdivision to Huetter. What else would you like to see done with the abandoned track?
---
---