Wed., Oct. 19, 2011, 9:19 a.m.
Bonner Tea Party Eyes GOP Control
Pam Stout's first brush with fame came in the spring of 2010 when, after appearing in a New York Times story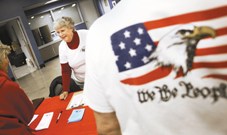 about the rise of the Tea Party, David Letterman invited her on his show to explain the movement. "I know nothing about the Tea Party," he said at the outset of the interview. Stout went on to explain -- in a calm, mild manner, to the dismay of some liberals -- that she and fellow activists were out to combat wasteful spending. To do that in her hometown of Sandpoint, she said, "We're trying locally to take over the Republican party." She added, "In Sandpoint, it's not so much of an issue -- it's fairly conservative"/Cally Carswell, High Country News. More here. (SR file photo)
Question: Is Kootenai County as susceptible to Tea Party control as Bonner County?
---
---