Thu., Sept. 29, 2011, 11:15 a.m.
Court OKs Guns At Oregon Colleges
Students and faculty with permits will be allowed to carry concealed guns on Oregon's seven public university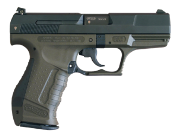 campuses – at least for now – as the result of a court ruling Wednesday. A three-judge panel of the Oregon Court of Appeals said that an Oregon University System ban on guns exceeds its authority and is invalid. That means people with permits can pack concealed guns, said Di Saunders, spokeswoman for the university system. "We don't have the authority to kick them off campus unless they show the weapons," she said. But anyone brandishing a gun on campus would be approached immediately by security, she said/Bill Graves, Oregonian. More here. (Wikipedia photo)
Question: Do you still agree with me that this is a dumb idea?
---
---