Wed., Dec. 12, 2012, 8:16 a.m.
Bloem Delivers State of City Address
In 2000, citizens were asked what Coeur d'Alene should focus on as it built for the future, 2020 to be exact. Almost everything, the survey answers said. Get busy, they said, on expanding arts and culture, economic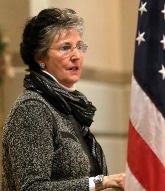 vitality, parks and recreation opportunities, housing, public safety, infrastructure ... A dozen years later Mayor Sandi Bloem reminded citizens of that vision, which the council adopted back then as a road map to the future. Partly to recognize how far the city has come, she said, but also to recognize how much more can be done as the city builds for the future - to 2020 and beyond."The first step in setting goals for the city ... is to have a vision," Mayor Sandi Bloem said Tuesday during her State of the City address at The Coeur d'Alene Resort, the annual end of the year speech that summarizes the last 12 months of city affairs, while outlining what lies ahead. "Being successful will depend on our vision, and how we have met the goals outlined by the citizens." But in 12 years, items have been checked off in impressive fashion, she said/Tom Hasslinger, Coeur d'Alene Press. More here. (Coeur d'Alene Chamber of Commerce Facebook photo: Sandi Bloem at Upbeat Breakfast Monday)
Question: Is Coeur d'Alene better off today than it was in 2000?
---
---