Thu., Dec. 13, 2012, 8:26 a.m.
Helping With Hurricane Sandy Effort
When Hurricane Sandy devastated the East Coast on Oct. 29, the American Red Cross sprang into action. Volunteers from across the U.S. converged on storm-damaged cities. Thirty-two of those volunteers were from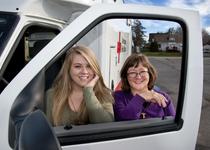 the Spokane area. Spokane Valley residents Chuck and Janet Boehme were vacationing in Las Vegas when they got the call. They left their RV behind and flew to New Jersey, returning Dec. 2. "We were in Jersey City, where a lot of people had flooding," said Janet Boehme. "In the morning we'd go to a mobile kitchen site and load up the ERV (Emergency Response Vehicle) with pallets of water and snacks. Then we'd load the hot meals." A route manager told them where to deliver the supplies. "We'd set up in a corner of a neighborhood," Boehme said. "You really got a community feeling as firefighters pitched in to help us unload"/Cindy Hval, SR. More here. (Dan Pelle SR photo: Annie Miraglia and Stacey Bogar have returned from the East Coast after helping victims of Hurricane Sandy)
Question: Have you ever been part of a relief effort or received assistance from the American Red Cross?
---
---