Tue., Dec. 18, 2012, 11:58 a.m.
Reagan Republicans: The Crisis
Tis the season to turn crisis and tragedy into tyranny. When former White House Chief of Staff (and now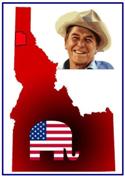 Chicago Mayor) Rahm Emanuel said "You never want a serious crisis to go to waste. And what I mean by that is an opportunity to do things you think you could not do before," he laid out the universal liberal marching order. Now instead of prayer, grief, contemplation and compassion as a response to an unimaginable and horrific tragedy, the ghouls of a liberal crisis exploitation machine intend to callously use the death of children as an excuse to strip us of our Constitutional Rights. It is not like they haven't done it before. Previously, they successfully exploited the crisis in American healthcare (one that liberal government policy in large part created) to create the most intrusive attack on American liberty since the Alien and Sedition Acts of 1798: Obamacare/Jeff Ward, Reagan Republicans newsletter. More here.
Agree/disagree?
---
---