Thu., Feb. 16, 2012, 8:36 a.m.
J-Mac Question Santorum Golf Shots
JimmyMAC: I'm still skeptical of Santorum holding the green in February on the floater from 270 out. WE ARE TALKING 270 yard fly in 30-40 degree weather over the lake which is always gusting heavily every day and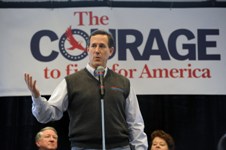 ALWAYS requires you to club up 1 minimum (usually two clubs up). Just look at the flag out there, it's RARELY blowing toward the lake. To put it in perspective, the tour average in driving distance so far this year is 279 yards and that includes rounds in Hawaii where the ball flies. In the conditions I mentioned above, that is easily 300-315 yards off the tees on the 14th. Santorum and everyone else aside from 20 guys on the PGA tour are hitting driver. I don't know the exact depth of the floating green but let's just say it's 30 yards (it's gotta be much less than that BTW). The hardness of the surface is probably more similar to a runway than a green right now given the temperature. Hit the green….MAYBE. Held it??? (Jesse Tinsley SR photo of Rick Santorum, with Jerry Jaeger and Tina Jacobson in background)
Question: Hey, don't look at me. The best I've ever golfed was to get a hole-in-one at a miniature course. Never knocked a golf ball on a big course. Or intend to do so. Are you a decent golfer?
---
---