Idaho Unhealthy For Washington Wolf
Many of the wolves in northeastern Washington moved in naturally from Idaho. But the Gem State is a dangerous place for the wolves to return. A radio-collared wolf from the Diamond Pack in east-central Pend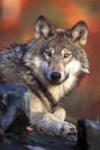 Oreille County was killed Dec. 20 by a trapper in North Idaho a few hundred yards east of the stateline. Trappers have reported taking at least six wolves in the Idaho Panhandle during the state's first trapping season, which started Nov. 15 and runs through March 15. Hunters have reported taking 28 wolves so far this season in the Panhandle, counting the one checked in at Coeur d'Alene on Tuesday. Statewide, hunters have tagged at least 173 wolves in Idaho so far this season and trappers have reported taking 24/Rich Landers, SR. More here.
Other Rich Landers/SR Outdoors blog posts:
Question: Do you consider a statewide kill of 173 wolves in Idaho so far this year to be a reasonable harvest number?
---
---