Wed., Jan. 25, 2012, 9 a.m.
Obama: American Dream In Peril
Declaring the American dream under siege, President Barack Obama delivered a populist challenge Tuesday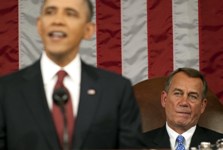 night to shrink the gap between rich and poor, promising to tax the wealthy more and help jobless Americans get work and hang onto their homes. Seeking re-election and needing results, the president invited Republicans to join him but warned, "I intend to fight." In an emphatic State of the Union address, Obama said ensuring a fair shot for all Americans is "the defining issue of our time." He said the economy is finally recovering from a deep and painful recession and he will fight any effort to return to policies that brought it low. "We've come too far to turn back now," he declared/Ben Feller, Twin Falls Times-News. More here. (AP photo)
Question: Do you believe the American dream is in peril?
---
---