Thu., July 26, 2012, 8:24 a.m.
Review: You'll Love CST's 'Spamalot'
It cannot be easy playing the straight man in "Spamalot." In the Coeur d'Alene Summer Theatre production of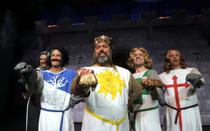 the Tony-winning musical comedy, that task falls to Eric Jensen as he assumes the role of Arthur, King of the Britons. "It's hard, but it's really rewarding," Jensen said. "We have so many wonderful, talented comedians, it's a joy to just be able to sit there and give them stage and space and try to keep a straight face." In this Tony-winning musical comedy, Arthur leads his band of merry knights – Robin, Lancelot, Galahad and Bedevere – on a quest through the early Middle Ages to find the Holy Grail. Along the way, they encounter the Lady of Lake, Tim the Enchanter, the Knights who say Ni, the French taunter, the Black Knight and a very nasty rabbit/Carolyn Lamberson, SR. More here. (SR photo: Kathy Plonka)
Question: Wanna play favorite Monty Python films?
---
---