Wed., Nov. 28, 2012, 12:01 p.m.
Hi-Noon: Hangover Cures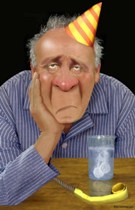 I have no idea how you cure a hangover because -- wait for it -- I haven't had one in decades. I'm not a teetotaler. I enjoy a beer on a hot summer day. Or an occasional glass of wine with family. But it has been a long, long time since I've been hammered. Not that I'm judging anyone. Different strokes for different folks. However, I know some of you occasionally knock back one too many. I can tell by your comments. Badabump. In recognition of those who occasionally wake up with a hangover, Adrian Rogers of the Spokesman-Review is looking for a "tried-and-true" hangover cure. You can email your cures to her at adrianr@spokesman.com. (AP file illustration)
Question: Before you send Adrian your hangover cures, would you mind sharing them with Huckleberries?
---
---