We all think our homes are secure or that we'll never become the victims of burglary. That's exactly what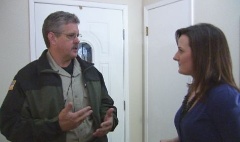 KXLY4's Colleen O'Brien thought until a man tried to get into her home while she was home alone. In September, there were 565 total burglaries in Spokane County – that's 18 a day. Now that it's getting darker earlier the cover of night offers the perfect landscape for criminals to sneak around your home at night. A majority of residential burglaries happen in the daylight when you're at work, but Colleen O'Brien was home alone and asleep when the burglar came knocking at 8 p.m. The following is Colleen's account of what happened and parts of her 911 call/Colleen O'Brien, KXLY. More here.
Question: Have you ever been burglarized?