Mon., Sept. 24, 2012, 4:27 p.m.
Dead Ambassador 'Bump In Road'?
Obama has used "bump in the road" before, in reference to unemployment, which was the inspiration for one of Romney's best ads. Obama's "bumps" seems to be what other people would call "failure." The "bumps"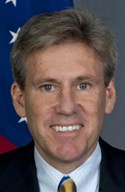 include four dead Americans and a disastrous loss of intelligence. (The New York Times reports: "The attack in Benghazi, Libya, that killed Ambassador J. Christopher Stevens (pictured) and three other Americans has dealt the Central Intelligence Agency a major setback in its intelligence-gathering efforts at a time of increasing instability in the North African nation." One official is quoted as saying, "It's a catastrophic intelligence loss. We got our eyes poked out.") Had Romney said such a preposterous and grossly insensitive thing as Obama did, there would be calls for him to quit the race; alas, when Obama does it's not even front-page news for most of the mainstream media/Jennifer Rubin, Washington Post Right Turn blog. More here.
Question: A dead ambassador & intelligence loss in Libya are bumps in the road? Really?
---
---