Mon., Feb. 4, 2013, 5:05 p.m.
Top Post: Staffer Blamed For Tweet
(Update: Rep. Labrador's office has returned our request for comment and blames a "staff error.") "Millions of viewers tuned in last night to watch the Baltimore Ravens best the 49ers in an exciting Super Bowl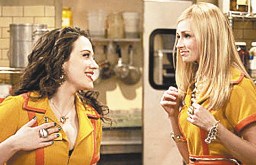 involving a lengthy power outage, an impressive almost-comeback by the Niners and, of course, Beyoncé. But for Rep. Raúl R. Labrador, the most memorable moment seemed to come during an ad for CBS's 2 Broke Girls involving a stripper pole, clothes being ripped off and a cherry being seductively consumed when he eagerly tweeted "Me likey Broke Girls." After just 14 seconds Rep. Labrador, a second-term Republican from Idaho's first congressional district, Mormon and father of five, regretted sharing that from his official congressional account and removed it, making it appear in the Sunlight Foundation's Politwoops site/Niko Margolies, Sunlight Foundation. More here. (AP file photo of "Broke Girls" actresses Kat Dennings, left, who plays Max, and Beth Behrs, who plays Caroline)
Question: Should Labrador's office reveal whodunnit? Or is this simply a tempest in a tea pot?
---
---