Mon., Feb. 11, 2013, 2:18 p.m.
Erickson To Run Utah Offense
Dennis Erickson won a pair of national titles at Miami and has been a head coach at three Pac-12 schools.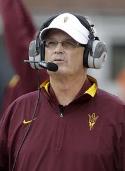 Now the 65-year-old is coming out of retirement to help transform Utah's offense, joining 26-year-old Brian Johnson as co-offensive coordinator. Johnson, a former Utah quarterback, struggled at times last year since becoming major college football's youngest coordinator. "Dennis Erickson brings a wealth of knowledge and coaching experience to our program," Utah head coach Kyle Whittingham said in a statement announcing Erickson's hiring Monday. "He has been labeled as one of the original architects of the spread and we are looking forward to the impact he will have on our offense"/Associated Press. More here.
Thoughts?
---
---