Thu., Jan. 3, 2013, 3:15 p.m.
Slice: On The 5:53 AM No. 43 Bus
I was riding the early bus in the first forward-facing seat. A girl got on just before downtown and sat in the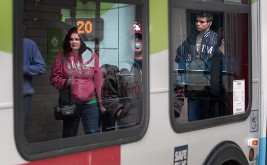 center-facing seat directly in front of me. She might have been 18. Could have been 20. She proceeded to extract a compact from her bag and began applying makeup, studying the little mirror as she went. I wasn't sure this was a great idea. It was pretty dark in the bus. And the ride is not without an occasion jostle. How could she do a precise job? I imagined saying something to her. "You know, you don't really need that stuff. You look just fine." But, of course, I kept quiet. Billions of dollars spent convincing women to be insecure about their appearance had already spoken/Paul Turner, The Slice blog. (SR file photo)
Question: Why are women insecure about their appearance? Or are they?
---
---