Fri., June 28, 2013, 8:25 a.m.
Ex-Zag Olynyk Winds Up In Boston
All things considered, Kelly Olynyk landed in the right spot in the NBA draft. Home. The Gonzaga star spent Thursday night with family and friends in Kamloops, British Columbia, while teams dealt players and picks in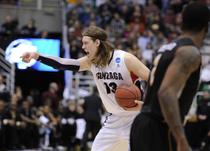 far-off New York. Olynyk was among them, being chosen with the 13th pick of the first round by the Dallas Mavericks before being traded to the Boston Celtics for other draft picks. He will fly to Boston this weekend to meet team officials as well as the media. "It's a great feeling to see all your hard work and patience and work ethic pay off," said Olynyk, a 7-foot center whose draft stock rose during a standout season at Gonzaga and a strong performance at the draft combine. He is expected to be a perimeter scorer and versatile big man, perhaps replacing the aging Kevin Garnett/Jim Allen, SR. More here.
Question: Are you glad to see Olynyk become a Boston Celtic?
---
---