Thu., Oct. 3, 2013, 3 p.m.
CPD Police Arrest Stabbing Suspect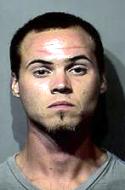 Coeur d'Alene police arrested a 21-year-old man today for allegedly stabbing another young man Wednesday afternoon on East Sherman Avenue near downtown. Jayde A. Brown, a transient, was booked into the Kootenai County Jail for attempted homicide. Brown, suspected of stabbing a 20-year-old man in the chest, was arrested at a local motel. The victim, who police have not named, was rushed into surgery Wednesday and is in stable condition. Like Brown, he also was listed as homeless. Detectives determined the two men had previous disputes over stolen property/Scott Maben, SR. More here.
Thoughts?
---
---