Tue., April 1, 2014, 1:18 p.m.
Facebook Tracks Baseball Fandom
The "Evil Empire," as Boston Red Sox president Larry Lucchino once called the New York Yankees, occupies territory far beyond the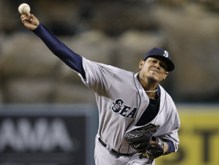 Bronx. Virginia, North Carolina, Louisiana, New Mexico—according to Facebook, FB +3.95% all are Yankee country. With the baseball season beginning in earnest on Monday, Facebook examined which of the 30 teams are most popular in each county nationwide, by Facebook likes of their team pages. Most teams win only in their respective geographic regions, but not the Yankees, who also are the preferred team in much of Florida, where they hold spring training. The Sox are favored in parts of the West, as are the Yankees/Wall Street Journal. More here. (AP photo: Felix Hernandez pitches Seattle to victory in opener against Anaheim Monday night. Facebook shows that North Idaho is Mariner country.)
Question: Obviously, North Idaho and the Inland Northwest is Seattle Mariners country. But can you guess, without looking, which other two teams are popular in (southern) Idaho?
---
---