Thu., Feb. 6, 2014, 4:27 p.m.
Otter Told Luna To Hold Off Decision
Hours before Tom Luna made his surprise announcement that he would not seek re-election, Gov. Butch Otter placed a pre-dawn phone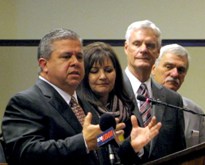 call asking the schools chief to hold off. State Superintendent Tom Luna, left, announces his decision not to run for re-election on Jan. 27. Luna is joined by (left, to right) his wife Cindy, Senate President Pro-Tem Brent Hill and Senate Education Committee Chairman John Goedde. "He wanted to know if I had really thought it through," Luna said. "The governor didn't say, 'I want to talk you out of this.' What he said is, 'Can we take more time to discuss this?'" The night before, on Sunday, Luna called Otter and key lawmakers to tell them he would step down when his term ends. After staying up most of the night thinking about it, Otter wasn't sure if Luna was making the right move/Clark Corbin, IdahoED News. More here. (AP file photo: Luna announces decision not to seek re-election)
Question: Butch was ready to back Luna, despite all the controversy, the wifi snafu, and the rejection of Students Come First laws? Really?
---
---