Tue., Jan. 21, 2014, 4 p.m.
Stapilus: Risch No Shoo-In
An array of familiar Democratic faces turned up Tuesday at the Boise press conference where attorney Nels Mitchell announced his run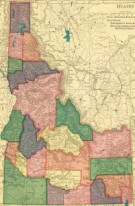 for the Senate against Republican Jim Risch, but one in particular may have resonated for people familiar with recent Idaho politics. He was Mike Burkett, a former state senator and like Mitchell an attorney. Also like him, he has run as a Democrat against Risch. What's remarkable about Burkett is that he is one of the few people ever to beat Risch in a political contest. That was in 1988, long before Risch was a U.S. senator, but at another time when he was powerfully positioned in the state, as Senate president pro tem. Risch then had been winning elections for 18 years (for county prosecutor, then senator) and had never lost one. He was very smart, disciplined, an excellent speaker and debater and (with his wife Vicki) a fine political strategist, and centrally positioned among Idaho Republicans in his points of view. There was also a rap on him: That he was arrogant, loved to wield power, stepped on people/Randy Stapilus, Ridenbaugh Press. More here.
Question: Are you a fan of U.S. Sen. Jim Risch?
---
---