Wed., Jan. 22, 2014, 12:57 p.m.
Changing Of Idaho Guard Battalion
The first woman ever to lead an Idaho National Guard battalion had a suspicion she'd made history when she assumed command of the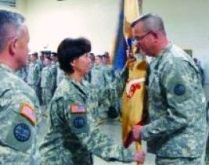 145th Brigade Support Battalion. But Maj. Kimberly R. Tschepen focused instead on her 18 years of service to Idaho's 116th Cavalry Brigade Combat Team Battalion. "That's just how we operate, I don't really think of it in that respect," she said. "But I'm definitely honored and hope I can set an example for those to follow." Tschepen became the commander for the National Guard's 500 men and women in Lewiston, Orofino, Kamiah, Moscow, Bonners Ferry, Sandpoint and Post Falls on Jan. 4. After taking over for Lt. Col. Ryan J. Robinson of Sandpoint, Tschepen became a role model of sorts for young women in the service to look up to/Dylan Brown, Lewiston Tribune. More here. (Idaho National Guard photo: Idaho National Guard Maj. Kimberly R. Tschepen passes unit colors to Battalion Sgt. Major Rik Williamson during a change of command ceremony in Post Falls)
Thoughts?
---
---