TUESDAY, JULY 1, 2014, 8:37 A.M.
A Close Encounter With A Cub
It's not unusual for complete strangers to chat like old chums at Ironman Coeur d'Alene, so when the guy sidled up on my right, leaned on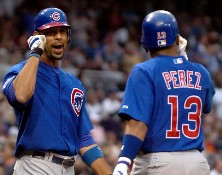 the fence and started a conversation at the intersection of Second and Lakeside, I didn't think much of it. "Why aren't you out there?" he asked. Before I could answer, my daughter, Elena -- as quick as I am bald - quipped: "He finished five minutes ago." The guy laughed. "And look at you, not even sweating," he said. "What about you?" I asked, glancing at him briefly before catching the second-place men's runner dashing in front of us. "What are you up to?" "I stopped by to tell you I like your shirt," he said. That shirt is the pride of my pro sports wardrobe: a navy blue Chicago Cubs T-shirt with the word LEE in red above the number 25 on the back. Derrek Lee is one of my all-time favorite Cubs, a giant of a team leader who won the National League batting crown in 2005, was twice an all-star and three times won the gold glove at first base/Mike Patrick, Coeur d'Alene Press. More here. (AP file photo: In a 2005 game against San Diego, Cub star Derrek Lee, left, congratulates a teammate)
Question: Have you ever met one of your sports heroes?
---
---