TUESDAY, JULY 29, 2014, 8:46 A.M.
Temperatures Soaring Into Upper 90s
The inflatable raft was piled high with everything two friends could possibly need for an afternoon at the Spokane River. Towels. Snacks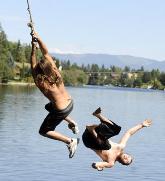 and drinks. A folding chair, an umbrella. More floating devices, and even a dog – an inquisitive dachshund named Lily. "She's queen of the boat," teased her owner, Nancy Ray. With temperatures soaring into the upper 90s on Monday, Ray and her friend Stacy Martin were looking for ways to keep cool. The heat sent them to Boulder Beach in the Spokane Valley. Temperatures are running about 10 degrees hotter than normal this time of year, increasing the allure of the Inland Northwest's lakes and river. Monday's high at Spokane International Airport was 98 degrees. The heat wave is expected to persist all week, with 100 degrees expected today and highs in the upper 90s through the weekend for both Spokane and Coeur d'Alene/Becky Kramer, SR. More here. (SR photo by Jesse Tinsley: Ben Gambill, left, and David Anderson show off with a tandem swing on the Spokane River shore near Boulder Beach on Monday)
Question: Have you been swimming in the lake this summer?
---
---