Wed., July 30, 2014, 9:59 a.m.
Risch: Tie Pastor Release To Iran $$$
Idaho Sen. Jim Risch today told the U.S. State Department's Undersecretary for Political Affairs Wendy Sherman that the United States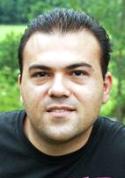 should cut off all funds to Iran until Idaho Pastor Saeed Abedini and two other Americans who are imprisoned in Iran are released. Abedini, of Boise, has been imprisoned in Iran since 2012 on charges related to Christian evangelizing. Risch said he's sure the move would work. At a Senate Foreign Relations Committee hearing today on the topic "Iran: Status of the P-5+1," Risch told Sherman, "I have urged that you do something about getting Pastor Abedini and the other two Americans released. As you know, I was incredibly critical of you guys because you cut billions loose without demanding this tiny, tiny little thing as far as Iran is concerned. I wanna ratchet that up again – you did it again"/Betsy Russell, Eye on Boise. More here. (Photo of Pastor Saaed Abedini by Be Heard Project)
Question: I'm glad that U.S. Sen. Risch is applying pressure to force the release of Pastor Abedini of Boise, who has been imprisoned in Iran for alleged crimes related to his Christian faith. You?
---
---