Fri., June 20, 2014, 11:50 a.m.
PFPD Seeks Bike Thief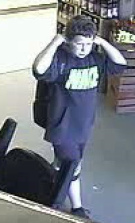 From Post Falls Police Department Facebook: A juvenile male stole a bicycle from Super 1 Foods on April 29. The juvenile was seen looking at a "Framed Verdict" BMX bike which was left against the building by the propane tanks. The male walked past the bike, then turned around and came back. The video shows the juvenile described in the report (approximately 11 years old wearing a black "Nike" sweatshirt, black shorts, and carrying a backpack). We are requesting that anyone with information about the bike contact Detective Moss at 208-773-3517 reference case number 14PF0765
Question: Have you or a child or yours ever had his/her bike stolen?
---
---