Tue., March 11, 2014, 11:07 a.m.
Portland Cat Terrorizes Family
A 22-pound cat named Lux had to be snared by Portland police officers after the owners said the ferocious feline attacked their baby in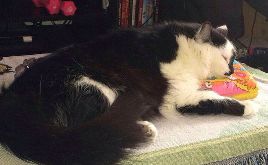 their Northwest Portland apartment Sunday. Officers were dispatched to The Yards at Union Station in the 900 block of Northwest Naito Parkway just before 8 p.m., said Sgt. Pete Simpson, a spokesman for the Portland Police Bureau. Dispatchers stayed on the phone while the couple locked themselves — along with their baby and the family dog — in a bedroom, Simpson said. Owner Lee Palmer told dispatchers the 4-year-old male cat "has a history of violence," and had scratched his 7-month old son in the forehead/Stuart Tomlinson, Oregonian. More here (including audio of 911 call) AP photo.
Question (for Cindy): Thoughts?
---
---