Healthy Salgado Headlines Bluesfest
First things first. Curtis Salgado, pictured, is healthy. Which is saying something. Last time the Oregon-based singer was in the Inland Northwest,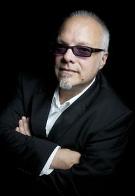 to headline the Wallace Blues Festival in 2012, he'd just gotten word that his lung cancer had returned, and within a few weeks he underwent a partial lobectomy. All this was after his bout with liver cancer and a liver transplant in 2006. Still, one can't keep a great bluesman down. Even half a lung shy, he's still able to sing, play harmonica and create the same electric blues set that has entertained fans across the country and around the world. "Maybe your body compensates for it, I don't know," he said in a recent telephone interview. Local fans will be able to see for themselves when Salgado headlines the Coeur d'Alene Blues Festival on Saturday/Carolyn Lamberson, SR. More here.
Question: Do you plan to attend the Coeur d'Alene Blues Festival this weekend?
---
---