Fri., May 23, 2014, 1:18 p.m.
2 Anti-Enviro Solons Fall In Primary
Backers of cooperation on Idaho's environmental issues and continued federal ownership of public lands in the state were among the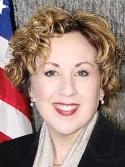 winners in Tuesday's election. Two of Idaho environmental groups' biggest opponents -- Sen. Monty Pearce and Rep. Lenore Hardy Barrett -- were defeated in the closed GOP primary by candidates who say they want collaborative conservation efforts. New Plymouth's Pearce represents District 9, the border counties of Adams, Washington, Canyon and Payette counties. He was defeated by Abby Lee, 42, of Fruitland, pictured, the public information director at Treasure Valley Community College. Merrill Beyeler, 69, a Leadore cattle rancher, beat Barrett, of Challis. The 22-year House veteran and chairwoman of the House Local Government Committee has been an outspoken critic of nearly every environmental initiative/Rocky Barker, Idaho Statesman. More here.
Question: Except in Kootenai County, do you sense that the Idaho GOP rejected Tea Party politics?
---
---