Mon., May 24, 2010, 6 p.m.
Fugitive rapist flees police in stolen car
A fugitive sex offender armed with a knife and driving a stolen vehicle led officers on a chase through west Spokane today, Spok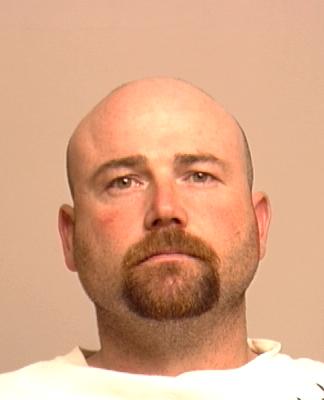 ane police said. 
Chris L. Gilbert, 40, drove in reverse for several blocks after Officer Terry Preuninger, tipped that Gilbert (left) had a warrant, approached him in the 1100 block of West Jackson Avenue about 2:30 p.m.
He lost control, then slowed to let a woman out of the car before speeding away. Preuninger struck the back bumper of Gilbert's Honda with his police cruiser, forcing it into a spin and bringing it to a stop. Gilbert raised his hands but then sped away again, this time westbound on Grace Avenue through Monroe as Preuniger got out of his cruiser.
" Gilbert was clearly unconcerned for the heavy afternoon traffic on Monroe Street," according to a news release.
Officers Erin Raleigh and Bruce Palmer helped block Gilbert's car and arrest him. Police say he had two knives - one with a blade more than a foot long.
Police found suspected stolen property in the Honda, which was stolen from the area of Ash Street and Glass Avenue Saturday night. Its plates were stolen from another car Sunday in the 1100 block of West Spofford.
Gilbert was booked into jail on charges of attempting to elude a police officer, possession of a stolen motor vehicle, possession of stolen license plates and a warrant for failing to register as a sex offender.
He has convictions for third-degree rape, as well as theft, possession of stolen property, malicious mischief, reckless driving, refusal to cooperate, domestic violence assault, violation of a no contact order, unlawful possession of a firearm and driving while license suspended, according to Crime Stoppers.
---
---