Sun., Feb. 9, 2014, 7:32 a.m.
There are folks around these parts who know how to worry
A GRIP ON SPORTS
There is angst in Gonzagaville this morning. Why? The Zags blew a lead in Memphis last night and lost, 60-54, to the 24th-ranked Tigers. But that, in itself, isn't what's causing the heartburn. It is what the loss may portend come Selection Sunday. Should it? Read on.
• No, this isn't a bulletproof Gonzaga team. Really, no GU squad ever is. But last year's was as close as the Bulldogs have gotten – in the regular season. A No. 1 ranking. A No. 1 seed. A second-game exit from the NCAAs. It seems those first two items have spoiled the Gonzaga fanbase a bit this year. Look, the Zags are 21-4. That's pretty damn good. Yet it may not be good enough, the paranoia goes, if the unthinkable happens and Gonzaga falters in the West Coast Conference tournament. Could GU be left out of the NCAAs? Oh sure. If they finish the WCC regular season on a long losing streak and bomb out of the conference tournament. Then all bets are off. But if Gonzaga wins the regular season crown with one, two or three league losses, it is going to the NCAA tournament. Count on it. Now the seed might not be as high as folks around here would like but what's the big deal? It's not like the Zags have been to a bunch of Elite Eights in a row as a high seed. The NCAAs are a crapshoot of the first order, especially for a team like Gonzaga that doesn't have a bunch of McDonald's All-Americans on its roster. So the seed isn't as important as the matchups. An upset here or there and the tournament bracket could just open up anyway. The question is can the Zags compete when they get there. There is little to base that on this season. Usually, Mark Few likes his non-conference schedule to be among the most difficult in the nation. But this year the Zags went a bit different route. With a team trying to fill holes left by departing seniors and NBA first-round draft pick Kelly Olynyk, the Bulldogs' scheduled a bit lighter. No Michigan States, Oklahoma States or Dukes this season. The four highest profile Gonzaga non-conference games were West Virginia, Kansas State, Memphis and the Maui Invitational. The problem is GU lost to Kansas State and Memphis and, by dropping the Maui opener to what's turned-out-to-be an average Dayton team, killed its chances of a big win in Hawaii. The West Virginia win, on the road, is looking better and better as the Mountaineers improve, but KSU and Memphis, while good teams, aren't huge resume builders. Either are any of the other non-conference wins as every GU opponent, from Oakland to Arkansas, are mired in the middle of their conferences. And we haven't even gotten into the Portland loss, which, though it was on the road, is not like Memphis or Kansas State, what the committee sometimes considers a "good loss." So Gonzaga's resume isn't sterling. But it is good enough. They are still 27th in Ken Pomeroy's ratings, the gold-standard as far as I'm concerned. So don't worry about the Zags' NCAA outlook just yet. There is always time to panic later. It's what we are good at around here.
•••
• WSU: The Cougars' NCAA outlook hinges on one thing: winning the Pac-12 Tournament. That's it. So don't get your hopes up. Not if they play like they did yesterday in Utah, where they lost to the Utes, 81-63. Jacob Thorpe was in Salt Lake City, where he put together a report that includes a game story, videos from Ken Bone and a couple players and the box score. ... We have the game stories from the two Salt Lake City newspapers. ... Jacob also broke the news yesterday concerning wide receiver Gabe Marks' early Saturday morning arrest for a variety of drinking-related offenses. ... Jacob has his usual morning post today as well.
• Gonzaga: Jim Meehan was on hand in Memphis for the Zag game and he has this game story along with a postgame blog post. He also will have a post this morning with more. ... We can pass along a column and a game story from the Memphis newspaper. ... The Gonzaga women raced past Loyola-Marymount in the Kennel and Thomas Clouse was there. He has this game story. John Blanchette was also in the building and has a column on the Zags' defensive prowess. ... Back to the WCC men, BYU held off USF in Provo, USD dropped another game at home, Pacific handled Loyola and St. Mary's got past Pepperdine in overtime.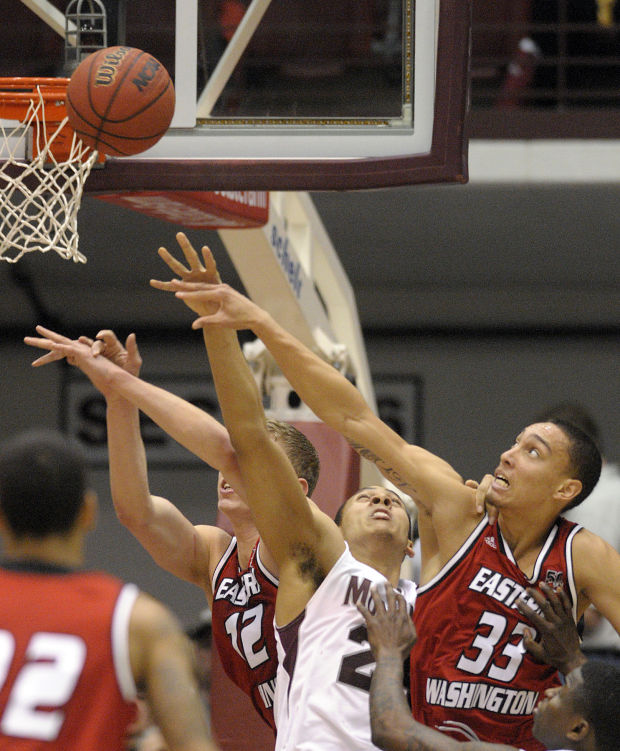 • EWU: The Eagles' hopes of sweeping the Montana schools were dashed by a tough first half in which they struggled to make shots. The Griz built a big-enough first-half edge to hold on, 82-77. ... Montana State bounced back from its whitewashing to EWU and defeated Portland State. ... Weber State continues to roll along atop the Big Sky standings. ... The Eastern women held off Montana in Cheney.
• Idaho: The Vandals forced overtime with a Stephen Madison 3-pointer then pulled away to defeat Texas-Pan American, 70-63, in Moscow. Josh Wright has a game story and blog post on UI's second consecutive WAC win.
• Whitworth: The road has been just fine for the Pirates lately as they handled Pacific Lutheran, 70-58, on Saturday.
• Chiefs: The losing streak is over – thanks to a visit to Kennewick, where the Chiefs blew out the Americans, 7-3. ... Portland continues to roll on, posting its 12th consecutive win 5-3 over Everett.
• Preps: As the regular season winds down for some high schools, postseason basketball has begun for others. Our boys and girls roundups cover both.
• Seahawks: Not a lot here but we do have a good story to pass along from the Times concerning the crowd estimates for the victory parade. ... There is also some football items here.
• Mariners: It's almost time for spring training to begin (thank you), with the Mariners heading to Arizona with a lot of questions needing answers. But that's not all that unusual for them.
• Sounders: The preseason continues with Seattle still undefeated after drawing with Portland last night. It was scoreless. ... The Timbers are having a bit of a brouhaha with Portland State over the use of the city's stadium.
•••
• Sunday mornings are supposed to be lazy. Especially when it is snowing outside. But we have things to do, places to go, people to see. Resting is for tomorrow, when all of you are at work. Hah. Until later ...
---
---